TEFL / TESOL Course in Phoenix, USA | Teach & Live abroad!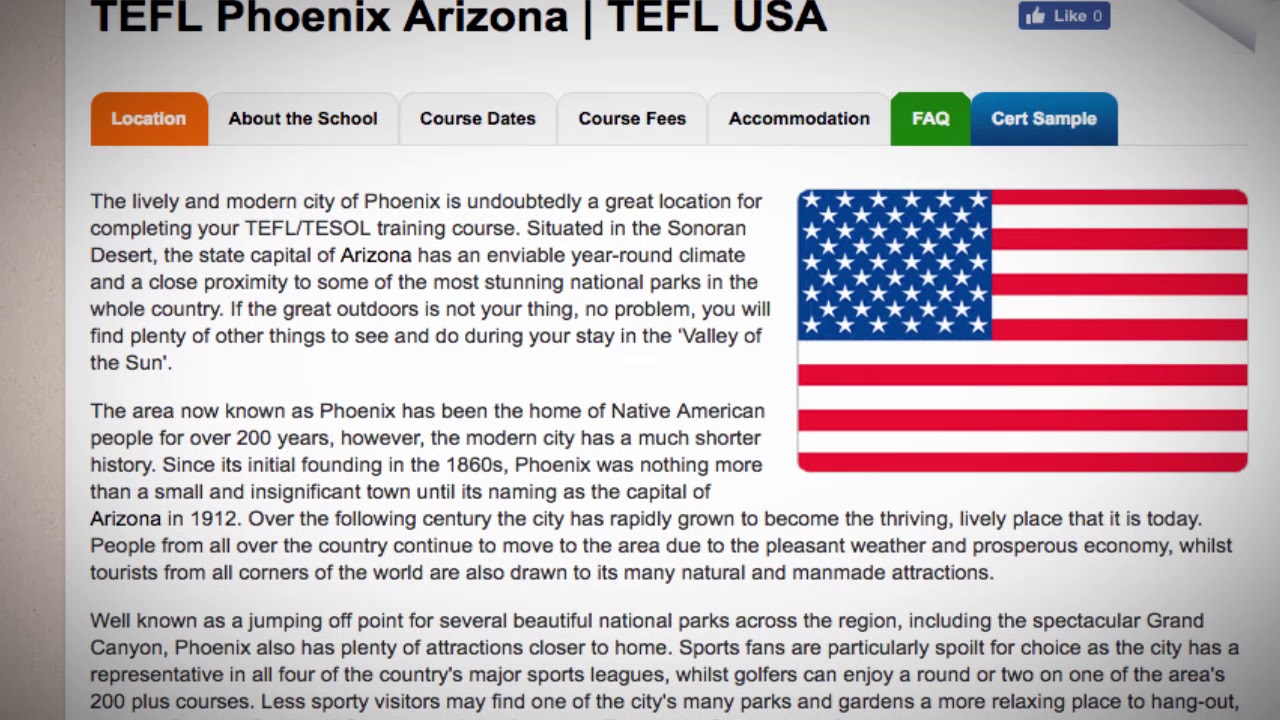 The lively and modern city of Phoenix is undoubtedly a great location for completing your TEFL/TESOL training course. Situated in the Sonoran Desert, the state capital of Arizona has an enviable year-round climate and a close proximity to some of the most stunning national parks in the whole country. If the great outdoors is not your thing, no problem, you will find plenty of other things to see and do during your stay in the 'Valley of the Sun'.
The area now known as Phoenix has been the home of Native American people for over 200 years, however, the modern city has a much shorter history. Since its initial founding in the 1860s, Phoenix was nothing more than a small and insignificant town until its naming as the capital of Arizona in 1912. Over the following century the city has rapidly grown to become the thriving, lively place that it is today. People from all over the country continue to move to the area due to the pleasant weather and prosperous economy, whilst tourists from all corners of the world are also drawn to its many natural and manmade attractions.
Well known as a jumping off point for several beautiful national parks across the region, including the spectacular Grand Canyon, Phoenix also has plenty of attractions closer to home. Sports fans are particularly spoilt for choice as the city has a representative in all four of the country's major sports leagues, whilst golfers can enjoy a round or two on one of the area's 200 plus courses. Less sporty visitors may find one of the city's many parks and gardens a more relaxing place to hang-out, with the Phoenix Botanical Gardens and the Japanese Friendship Garden two of the most popular.
Another area that Phoenix is renowned for is its wide variety of international cuisine. Right across the city you will find a huge choice of food available from Asian favorites including Thai, Korean and Vietnamese, to European classics such as French, Spanish and Italian. As well as the wealth of international cuisine, the city is also famous for its long history of Mexican food that seems to be found on every street corner. If you choose to complete your TEFL/TESOL training in wonderful Phoenix you will never grow tired of the food, nor run out of fascinating things to see and do.
Find out more about taking a TEFL course in Phoenix here: https://www.teflcourse.net/tefl-courses-combined/usa/phoenix-arizona/?cu=YTDESCRIPTION
Are you ready to live and teach abroad? Click here and get started today: https://www.teflcourse.net/?cu=YTDESCRIPTION