TEFL / TESOL Course in Manuel Antonio, Costa Rica | Teach & Live abroad!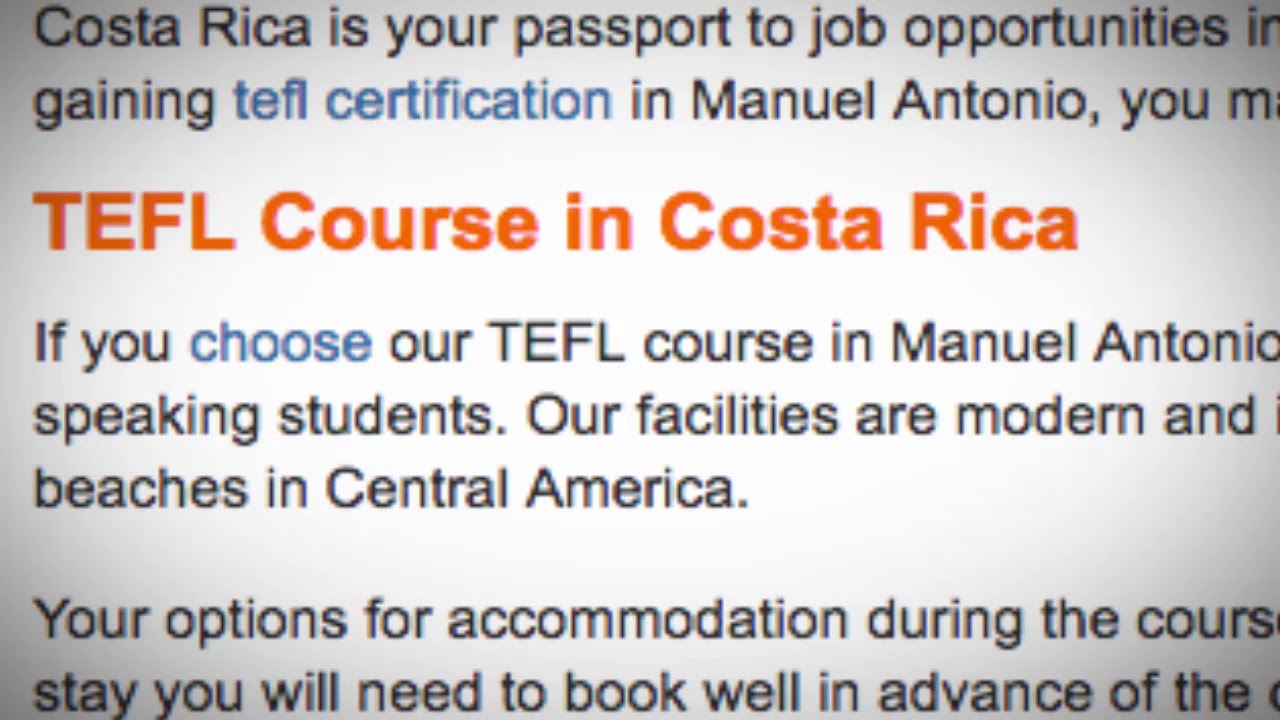 Join our TEFL course in Costa Rica and experience one of the most stunningly beautiful locations anywhere in the world. Lush jungles, turquoise waters, small bays and some of the best beaches in the world, Manuel Antonio is quite simply incredible and undoubtedly one of the best locations to take your TEFL course in Central America. As if that isn't enough, once your course is finished, we will provide you with lifetime assistance finding employment. Teaching English in Costa Rica is a great experience and our TEFL course in Manuel Antonio has proved to be increasingly popular. Costa Rica is an amazing place to visit, live and work thus its popularity for TEFL courses comes as no surprise.
Many beach related activities, including snorkelling, scuba diving and surfing can be enjoyed here. Animal lovers can also take pleasure in howlers, white faced monkeys, two-toed sloths, iguanas, and over 350 species of birds and other animals while trekking the countless trails in the area. Our TEFL course in Costa Rica is your passport to job opportunities in exotic and culturally fascinating locations the world over. However, after gaining tefl certification in Manuel Antonio, you may never want to leave this earthly paradise again.
TEFL Course in Costa Rica
If you choose our TEFL course in Manuel Antonio you will be training in well-equipped classrooms with real Spanish speaking students. Our facilities are modern and in your free time you are only minutes from some of the most beautiful beaches in Central America.
Your options for accommodation during the course include home stays, private apartments and hostels. To reserve a home stay you will need to book well in advance of the course as these options fill quickly.
The course fees listed on our website are inclusive of course-related lessons, teaching practice sessions, assessments, references and certificates. Our lifetime job assistance is also included in the course fees, so whether you fall in love with Costa Rica and want to stay or decide to look for more adventure elsewhere, we are there to help you find a job in your dream destination.
Getting Started
If you are at least 18 years of age and speak English fluently, you are eligible to apply for the course. The application is brief and we will send you a prompt reply. Once approved, you will receive additional information about the course content and schedule, your accommodation options, travel arrangements, as well as payment options and more.
Apply to take our TEFL course in Costa Rica now and soon you could be experiencing life in one of Central America's most prosperous countries. If you do choose to train here it doesn't mean you have to stay and teach in Costa Rica. If you would like to move on after the course we offer lifetime assistance finding employment and our certificates are recognised worldwide.
Find out more about taking a TEFL course in Costa Rica here: https://www.teflcourse.net/tefl-courses-locations/costa-rica/manuel-antonio/?cu=YTDESCRIPTION
Are you ready to live and teach abroad? Click here and get started today: https://www.teflcourse.net/?cu=YTDESCRIPTION