TEFL / TESOL Course in Rome, Italy | Teach & Live abroad!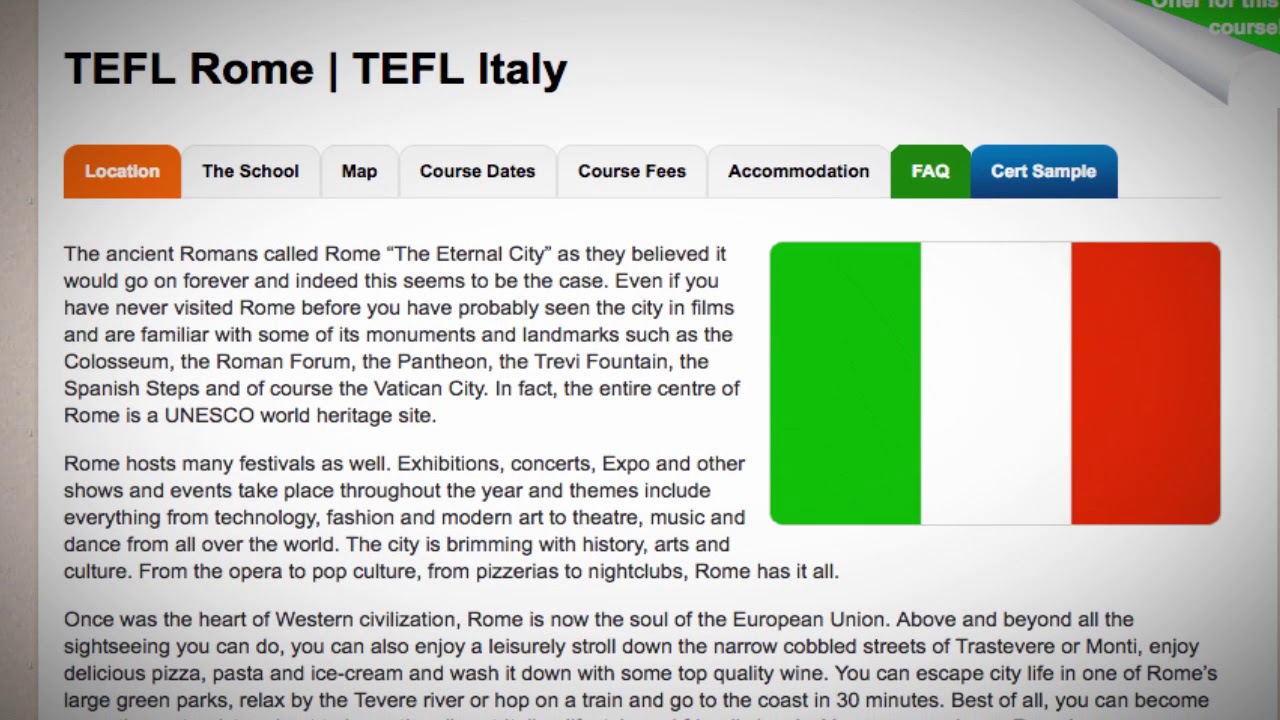 The ancient Romans called Rome "The Eternal City" as they believed it would go on forever and indeed this seems to be the case. Even if you have never visited Rome before you have probably seen the city in films and are familiar with some of its monuments and landmarks such as the Colosseum, the Roman Forum, the Pantheon, the Trevi Fountain, the Spanish Steps and of course the Vatican City. In fact, the entire centre of Rome is a UNESCO world heritage site.
Rome hosts many festivals as well. Exhibitions, concerts, Expo and other shows and events take place throughout the year and themes include everything from technology, fashion and modern art to theatre, music and dance from all over the world. The city is brimming with history, arts and culture. From the opera to pop culture, from pizzerias to nightclubs, Rome has it all.
Once was the heart of Western civilization, Rome is now the soul of the European Union. Above and beyond all the sightseeing you can do, you can also enjoy a leisurely stroll down the narrow cobbled streets of Trastevere or Monti, enjoy delicious pizza, pasta and ice-cream and wash it down with some top quality wine. You can escape city life in one of Rome's large green parks, relax by the Tevere river or hop on a train and go to the coast in 30 minutes. Best of all, you can become more than a tourist and get to know the vibrant Italian lifestyle and friendly locals. You can experience Rome!
The Rome TEFL/TESOL certificate course is demanding, but if you are going to study somewhere, you may as well to do so in pleasant surroundings surrounded by culture and amazing views.
Another good reason to consider Rome for your TEFL/TESOL course is that Italy has a thriving English teacher job market; from the moment you arrive you can start building your future.
All roads lead to Rome, after all.
Find out more about taking a TEFL course in Italy here: https://www.teflcourse.net/tefl-courses-locations/italy/rome/?cu=YTDESCRIPTION
Are you ready to live and teach abroad? Click here and get started today: https://www.teflcourse.net/?cu=YTDESCRIPTION