TEFL / TESOL Course in New York City, USA | Teach & Live abroad!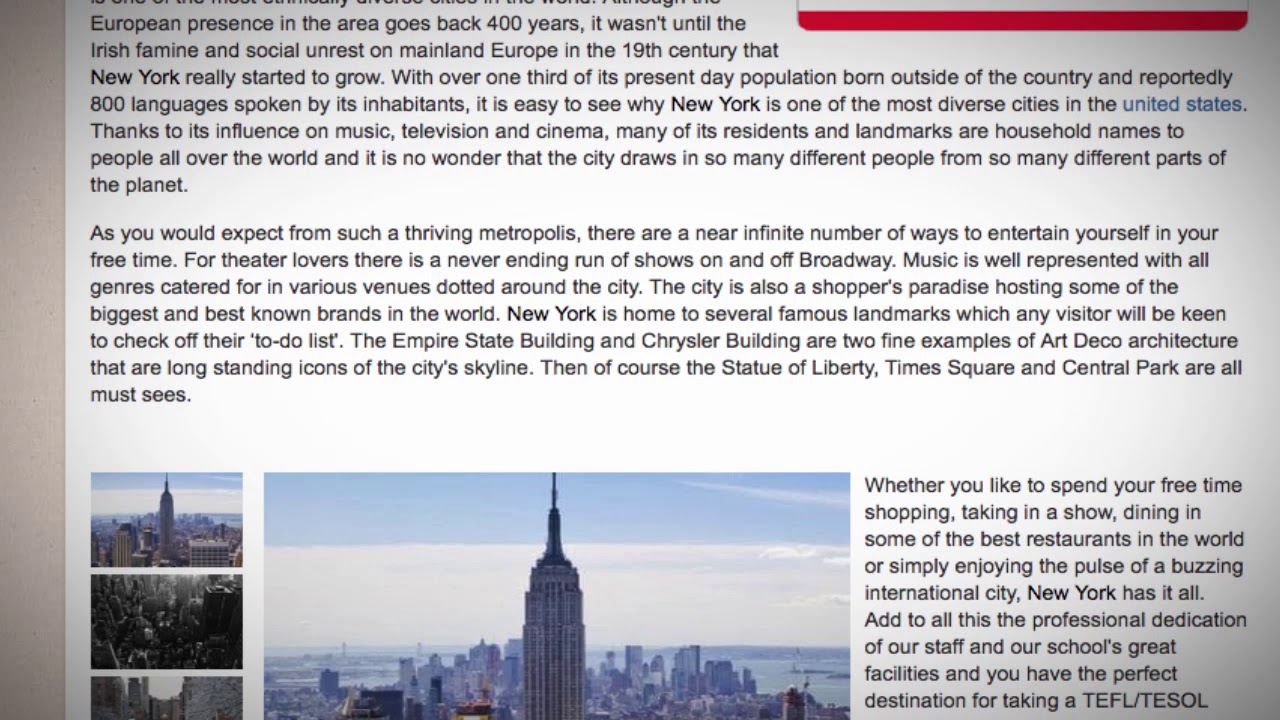 New York truly is a world city; its influence on the arts makes it a thriving cultural capital and events on Wall Street shape financial markets globally. This worldwide influence is also made evident by the city being home to the headquarters of the United Nations. Long known as the gateway to the New World, New York still attracts people from all over the globe making it a thriving metropolis and the ideal place to take a TEFL/TESOL course.
Famous as a melting pot of different people and cultures, the 'Big Apple' is one of the most ethnically diverse cities in the world. Although the European presence in the area goes back 400 years, it wasn't until the Irish famine and social unrest on mainland Europe in the 19th century that New York really started to grow. With over one third of its present day population born outside of the country and reportedly 800 languages spoken by its inhabitants, it is easy to see why New York is one of the most diverse cities in the united states. Thanks to its influence on music, television and cinema, many of its residents and landmarks are household names to people all over the world and it is no wonder that the city draws in so many different people from so many different parts of the planet.
As you would expect from such a thriving metropolis, there are a near infinite number of ways to entertain yourself in your free time. For theater lovers there is a never ending run of shows on and off Broadway. Music is well represented with all genres catered for in various venues dotted around the city. The city is also a shopper's paradise hosting some of the biggest and best known brands in the world. New York is home to several famous landmarks which any visitor will be keen to check off their 'to-do list'. The Empire State Building and Chrysler Building are two fine examples of Art Deco architecture that are long standing icons of the city's skyline. Then of course the Statue of Liberty, Times Square and Central Park are all must-sees.
Whether you like to spend your free time shopping, taking in a show, dining in some of the best restaurants in the world or simply enjoying the pulse of a buzzing international city, New York has it all. Add to all this the professional dedication of our staff and our school's great facilities and you have the perfect destination for taking a TEFL/TESOL course.
Find out more about taking a TEFL course in New York City here: https://www.teflcourse.net/tefl-courses-combined/usa/new-york-city-new-york/?cu=YTDESCRIPTION
Are you ready to live and teach abroad? Click here and get started today: https://www.teflcourse.net/?cu=YTDESCRIPTION