TEFL / TESOL Course in Toronto, Canada | Teach & Live abroad!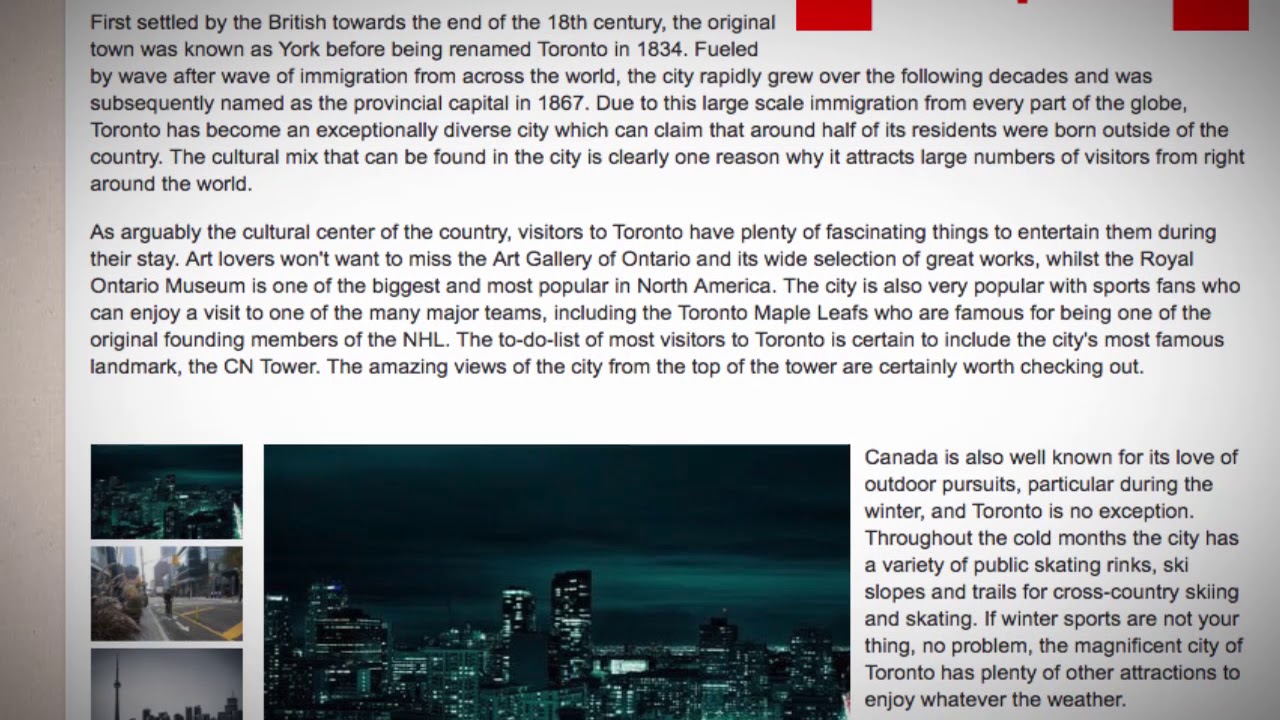 Toronto can rightly claim to be a major world city as it is not only the most populous city in Canada, but also the fourth most populous on the North American continent. As the capital of Ontario it is also at the center of the country's business and finance sectors, and home to many of Canada's most important arts and cultural movements. Although it is a large city in both size and population, Toronto has been recognized by a variety of surveys and polls as one of the most livable cities in the world. If you are looking for a multicultural and cosmopolitan city to attend your TEFL/TESOL course, then Toronto might be the perfect choice.
First settled by the British towards the end of the 18th century, the original town was known as York before being renamed Toronto in 1834. Fueled by wave after wave of immigration from across the world, the city rapidly grew over the following decades and was subsequently named as the provincial capital in 1867. Due to this large scale immigration from every part of the globe, Toronto has become an exceptionally diverse city which can claim that around half of its residents were born outside of the country. The cultural mix that can be found in the city is clearly one reason why it attracts large numbers of visitors from right around the world.
As arguably the cultural center of the country, visitors to Toronto have plenty of fascinating things to entertain them during their stay. Art lovers won't want to miss the Art Gallery of Ontario and its wide selection of great works, whilst the Royal Ontario Museum is one of the biggest and most popular in North America. The city is also very popular with sports fans who can enjoy a visit to one of the many major teams, including the Toronto Maple Leafs who are famous for being one of the original founding members of the NHL. The to-do-list of most visitors to Toronto is certain to include the city's most famous landmark, the CN Tower. The amazing views of the city from the top of the tower are certainly worth checking out.
Canada is also well known for its love of outdoor pursuits, particular during the winter, and Toronto is no exception. Throughout the cold months the city has a variety of public skating rinks, ski slopes and trails for cross-country skiing and skating. If winter sports are not your thing, no problem, the magnificent city of Toronto has plenty of other attractions to enjoy whatever the weather.
Find out more about taking a TEFL course in Toronto here: https://www.teflcourse.net/tefl-courses-combined/canada/toronto-canada/?cu=YTDESCRIPTION
Are you ready to live and teach abroad? Click here and get started today: https://www.teflcourse.net/?cu=YTDESCRIPTION