TEFL / TESOL School Accommodation in Brittany, France | Teach & Live abroad!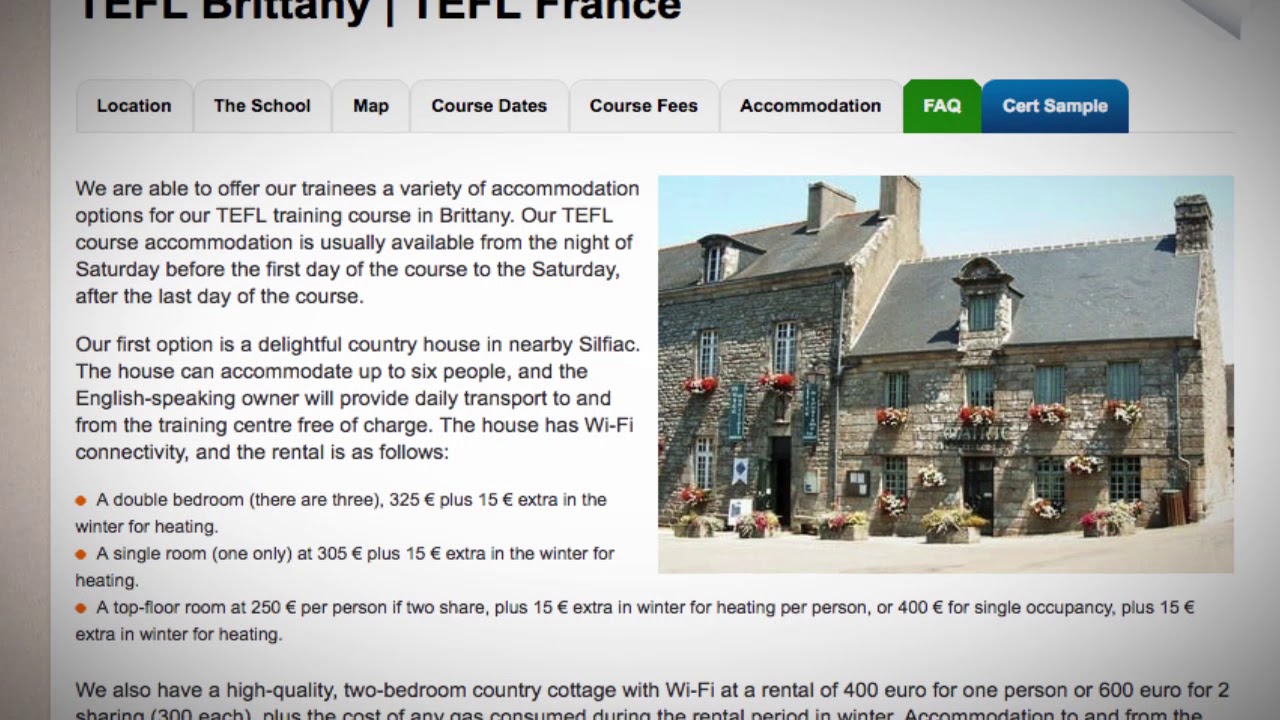 We are able to offer our trainees a variety of accommodation options for our TEFL training course in Brittany. Our TEFL course accommodation is usually available from the night of Saturday before the first day of the course to the Saturday, after the last day of the course.
Our first option is a delightful country house in nearby Silfiac. The house can accommodate up to six people, and the English-speaking owner will provide daily transport to and from the training center free of charge. The house has Wi-Fi connectivity, and the rental is as follows:
A double bedroom (there are three), 325 € plus 15 € extra in the winter for heating.
A single room (one only) at 305 € plus 15 € extra in the winter for heating.
A top-floor room at 250 € per person if two share, plus 15 € extra in winter for heating per person, or 400 € for single occupancy, plus 15 € extra in winter for heating.
We also have a high-quality, two-bedroom country cottage with Wi-Fi at a rental of 400 euro for one person or 600 euro for 2 sharing (300 each), plus the cost of any gas consumed during the rental period in winter. Accommodation to and from the cottage would be provided by TEFL training center staff.
We can also offer simple on-site accommodation at the TEFL training centre which you need to book in advance as places are limited. A single on-site room including shared bathroom and kitchen facilities is 250 euro for the month and a shared room is 200 euro for the duration of your TEFL course in France.
There are other properties in the area which average around 300 euro per person but are mostly without Wi-Fi. If you wish to make your own accommodation arrangements please contact the center as we may be able to suggest possible locations.
Find out more about taking a TEFL course in Brittany here: https://www.teflcourse.net/tefl-courses-locations/france/brittany/?cu=YTDESCRIPTION
Are you ready to live and teach abroad? Click here and get started today: https://www.teflcourse.net/?cu=YTDESCRIPTION