TEFL / TESOL School Accommodation in Buenos Aires, Argentina | Teach & Live abroad!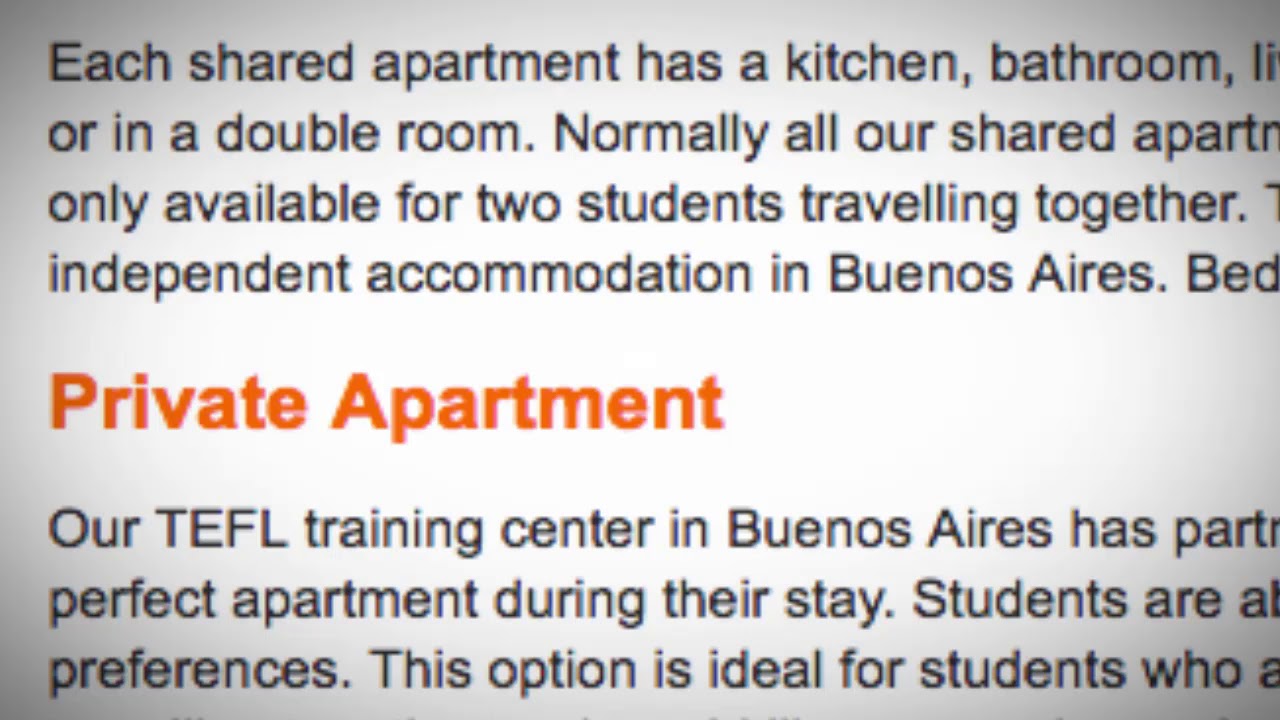 Our TEFL training school in Buenos Aires offers several different kinds of accommodation options to ensure a safe and comfortable stay in Buenos Aires. All accommodation offered by our school is located in pleasant and safe neighborhoods and regularly checked and approved by a staff member. Please take into account the minimum stay is 28 nights and that we need your flight information to start the booking process. Accommodation with the school is of course optional, and it can also be booked independently.
There are three kinds of accommodation options the school offers:
Homestay
Shared Apartments
Private Apartments
Homestay
If you are looking for an authentic experience of Buenos Aries, then our homestay option is perfect for you. This option includes a private or shared bedroom in the home of the host family with bed linen and towels provided. All the host families are carefully selected by our staff and are friendly and all families are used to host international students regularly. A member of the school's staff visits the family to make sure their suitability for hosting our students.
Shared Apartment
Each shared apartment has a kitchen, bathroom, living room and two or more bedrooms. You can choose to stay in a single or in a double room. Normally all our shared apartments have free Wi-Fi internet access. Please note that double rooms are only available for two students travelling together. This option is perfect for students who are looking for affordable and independent accommodation in Buenos Aires. Bed linen and towels are provided.
Private Apartment
Our TEFL training center in Buenos Aires has partnered with local real estate companies to assist students in finding the perfect apartment during their stay. Students are able to choose the location, size, and included amenities based on their preferences. This option is ideal for students who are looking for total independence or for families or couples who are travelling together and would like more privacy. Apartments are fully furnished and include utilities. A deposit is required and the price, size and amenities depend on the apartment selected.
Prices
Shared apartments and homestays: Minimum stay with no meals is 28 nights at US$ 840. Students can choose to stay for 28 nights or longer, each night costs US$ 30.
Private apartment costs vary and the student normally arranges the booking process through a recommended real state agency in Buenos Aires.
Find out more about taking a TEFL course in Buenos Aires here: https://www.teflcourse.net/tefl-courses-locations/argentina/buenos-aires/?cu=YTDESCRIPTION
Are you ready to live and teach abroad? Click here and get started today: https://www.teflcourse.net/?cu=YTDESCRIPTION