TEFL / TESOL School Accommodation in Moscow, Russia | Teach & Live abroad!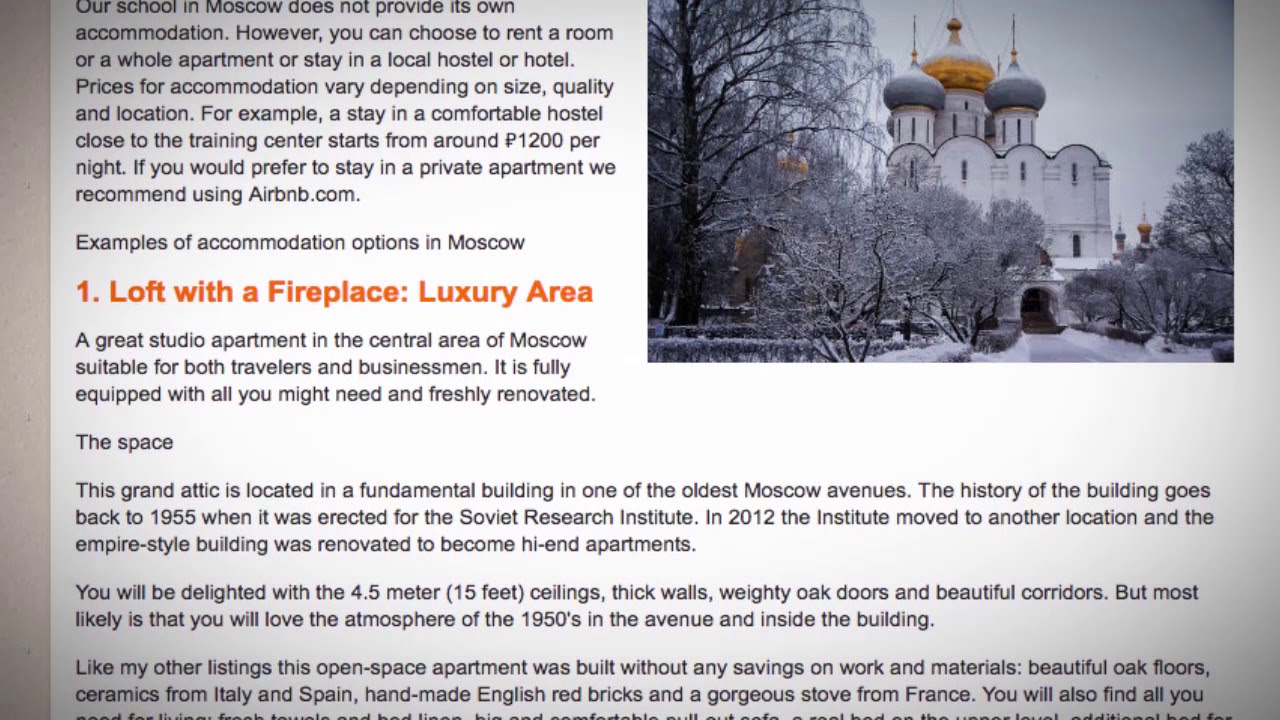 Our school in Moscow does not provide its own accommodation. However, you can choose to rent a room or a whole apartment or stay in a local hostel or hotel. Prices for accommodation vary depending on size, quality and location. For example, a stay in a comfortable hostel close to the training center starts from around ₽1200 per night. If you would prefer to stay in a private apartment we recommend using Airbnb.com.
Examples of accommodation options in Moscow
1. Loft with a Fireplace: Luxury Area
A great studio apartment in the central area of Moscow suitable for both travelers and businessmen. It is fully equipped with all you might need and freshly renovated.
The space
This grand attic is located in a fundamental building in one of the oldest Moscow avenues. The history of the building goes back to 1955 when it was erected for the Soviet Research Institute. In 2012 the Institute moved to another location and the empire-style building was renovated to become hi-end apartments.
You will be delighted with the 4.5 meter (15 feet) ceilings, thick walls, weighty oak doors and beautiful corridors. But most likely is that you will love the atmosphere of the 1950's in the avenue and inside the building.
Like my other listings this open-space apartment was built without any savings on work and materials: beautiful oak floors, ceramics from Italy and Spain, hand-made English red bricks and a gorgeous stove from France. You will also find all you need for living: fresh towels and bed linen, big and comfortable pull-out sofa, a real bed on the upper level, additional bed for 1 person, teas, coffees etc. For security reasons the building is guarded 24/7 and has a reception desk inside.
It will take you 15 minutes to get to the Kremlin by trolley-bus if the traffic is low (my parents and grandparents did this for more than 50 years getting to work and back). Alternatively take a tube: it is only 7 minutes walk and 3 stations (7-10 minutes) to find yourself in the heart of the historic centre.
Please look at the map with all the conveniences around to make sure that you will find everything within a 5-minute walk: nice restaurants, 24/7 supermarkets and bars.
To make your stay comfortable, please read the HOUSE RULES carefully before booking! I will be happy to answer any questions you have and see you in Moscow!
COST: 46$ per night/per room
2. Room 10 min walking distance from the Kremlin!
Apartment with European style in the heart of Moscow. It is located on Petrovka Street. 10 minutes walk to the Kremlin, 5 minutes to the Bolshoi Theater, 5-7 minutes to many subway stations, supermarkets, bars, and there is a restaurant downstairs. The apartment has a large living room, fully equipped kitchen, 2 bathrooms, as well as heated floors, air conditioning, washing machine, cable TV, and internet. The bedroom has a rack with hangers and shelves for clothes, a single bed, and a table for working with a computer.
COST: 40$ per night/per room with private bathroom
Find out more about taking a TEFL course in Moscow here: https://www.teflcourse.net/tefl-courses-locations/russia/moscow/?cu=YTDESCRIPTION
Are you ready to live and teach abroad? Click here and get started today: https://www.teflcourse.net/?cu=YTDESCRIPTION