TESOL Course in Calcutta, India | Teach & Live abroad!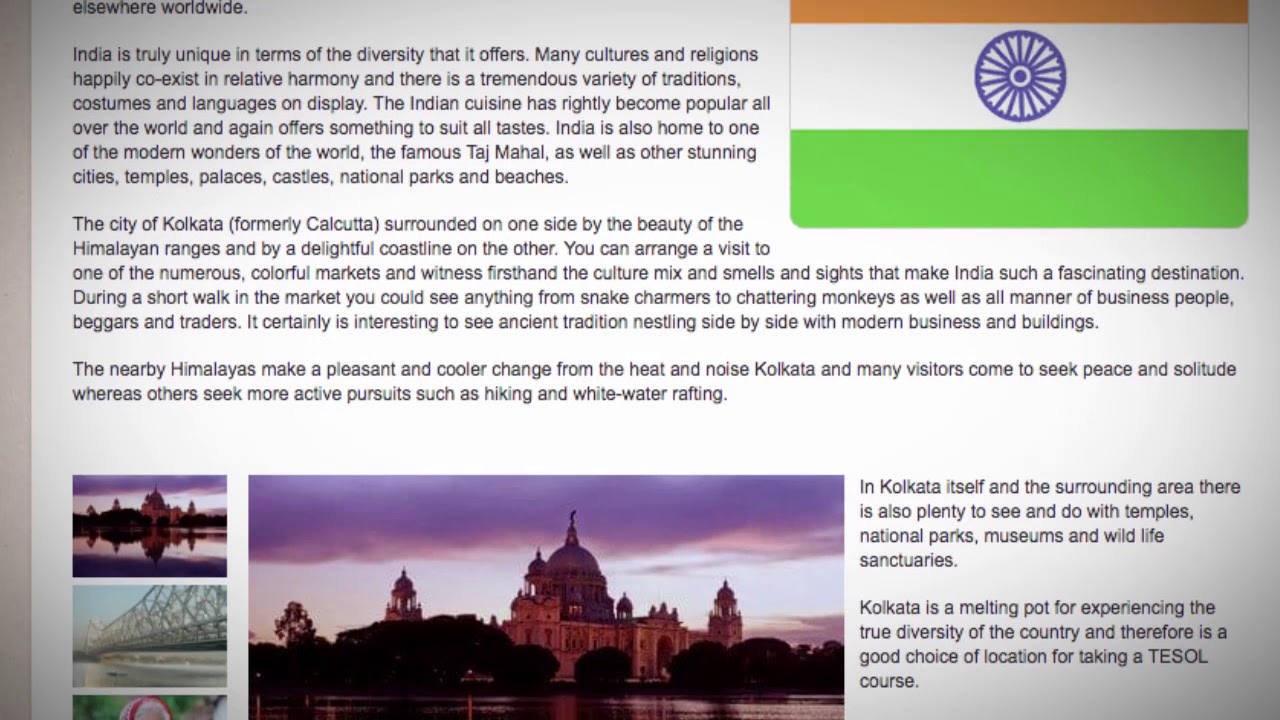 A blend of stunning landscapes, rich culture and history, friendly people and fascinating cities all make India a very appealing destination for a TESOL course. Our TESOL courses in India provide high quality training that can be utilized in India or elsewhere worldwide.
India is truly unique in terms of the diversity that it offers. Many cultures and religions happily co-exist in relative harmony and there is a tremendous variety of traditions, costumes and languages on display. The Indian cuisine has rightly become popular all over the world and again offers something to suit all tastes. India is also home to one of the modern wonders of the world, the famous Taj Mahal, as well as other stunning cities, temples, palaces, castles, national parks and beaches.
The city of Kolkata (formerly Calcutta) surrounded on one side by the beauty of the Himalayan ranges and by a delightful coastline on the other. You can arrange a visit to one of the numerous, colorful markets and witness firsthand the culture mix and smells and sights that make India such a fascinating destination. During a short walk in the market you could see anything from snake charmers to chattering monkeys as well as all manner of business people, beggars and traders. It certainly is interesting to see ancient tradition nestling side by side with modern business and buildings.
The nearby Himalayas make a pleasant and cooler change from the heat and noise Kolkata and many visitors come to seek peace and solitude whereas others seek more active pursuits such as hiking and white-water rafting.
In Kolkata itself and the surrounding area there is also plenty to see and do with temples, national parks, museums and wild life sanctuaries.
Kolkata is a melting pot for experiencing the true diversity of the country and therefore is a good choice of location for taking a TESOL course.
Find out more about taking a TEFL course in Calcutta here: https://www.tesolcourse.com/tesol/india-calcutta/?cu=YTDESCRIPTION
Are you ready to live and teach abroad? Click here and get started today: https://www.teflcourse.net/?cu=YTDESCRIPTION
Check our wide range of online TEFL & TESOL courses: https://www.teflonline.net/?cu=YTDESCRIPTION