TESOL Course in Corinth, Greece | Teach & Live abroad!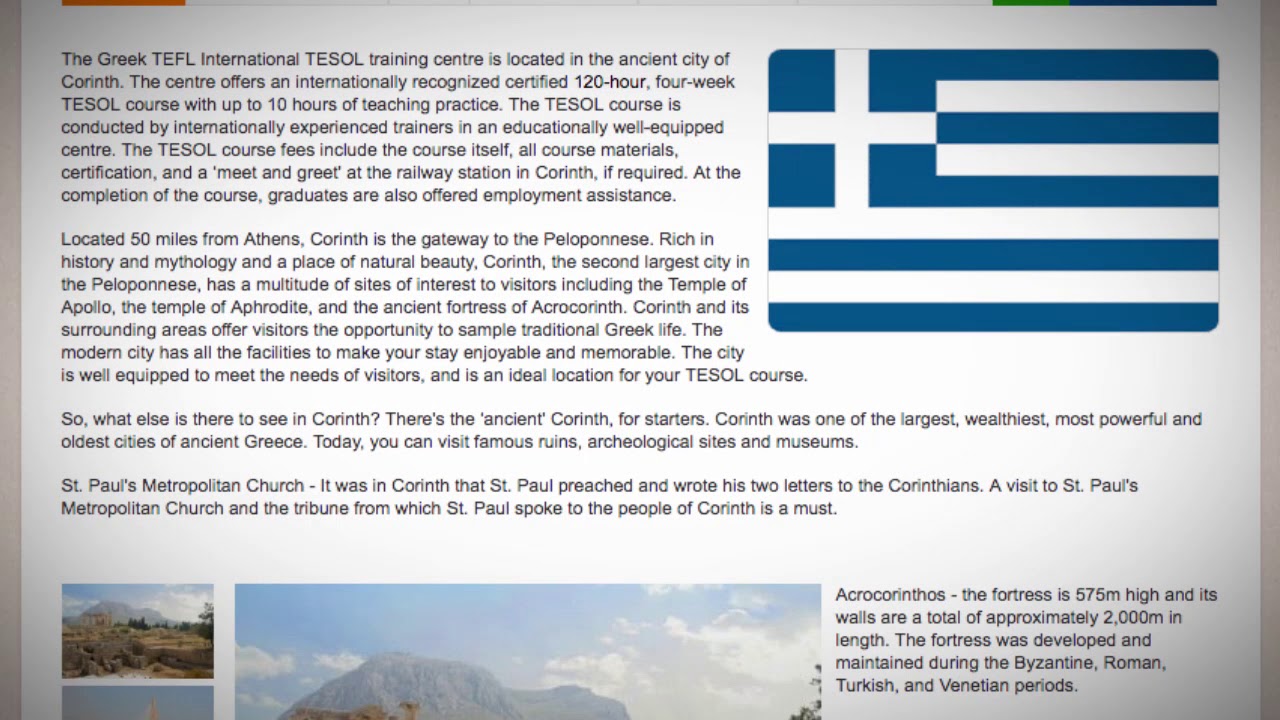 The Greek TEFL International TESOL training centre is located in the ancient city of Corinth. The centre offers an internationally recognized certified 120-hour, four-week TESOL course with up to 10 hours of teaching practice. The TESOL course is conducted by internationally experienced trainers in an educationally well-equipped centre. The TESOL course fees include the course itself, all course materials, certification, and a 'meet and greet' at the railway station in Corinth, if required. At the completion of the course, graduates are also offered employment assistance.
Located 50 miles from Athens, Corinth is the gateway to the Peloponnese. Rich in history and mythology and a place of natural beauty, Corinth, the second largest city in the Peloponnese, has a multitude of sites of interest to visitors including the Temple of Apollo, the temple of Aphrodite, and the ancient fortress of Acrocorinth. Corinth and its surrounding areas offer visitors the opportunity to sample traditional Greek life. The modern city has all the facilities to make your stay enjoyable and memorable. The city is well equipped to meet the needs of visitors, and is an ideal location for your TESOL course.
So, what else is there to see in Corinth? There's the 'ancient' Corinth, for starters. Corinth was one of the largest, wealthiest, most powerful and oldest cities of ancient Greece. Today, you can visit famous ruins, archeological sites and museums.
St. Paul's Metropolitan Church – It was in Corinth that St. Paul preached and wrote his two letters to the Corinthians. A visit to St. Paul's Metropolitan Church and the tribune from which St. Paul spoke to the people of Corinth is a must.
Acrocorinthos – the fortress is 575m high and its walls are a total of approximately 2,000m in length. The fortress was developed and maintained during the Byzantine, Roman, Turkish, and Venetian periods.
The Corinth Canal is a 6,343m gorge with 90m high walls linking the Corinthian and Saronic Gulfs. It is a maritime short cut that traces a straight line across the Isthmus of Corinth. Work on the canal began in 67AD but wasn't completed until 1893.
Find out more about taking a TEFL course in Corinth here: https://www.tesolcourse.com/tesol/greece-corinth/?cu=YTDESCRIPTION
Are you ready to live and teach abroad? Click here and get started today: https://www.teflcourse.net/?cu=YTDESCRIPTION
Check our wide range of online TEFL & TESOL courses: https://www.teflonline.net/?cu=YTDESCRIPTION