TESOL Course in Chongqing, China | Teach & Live abroad!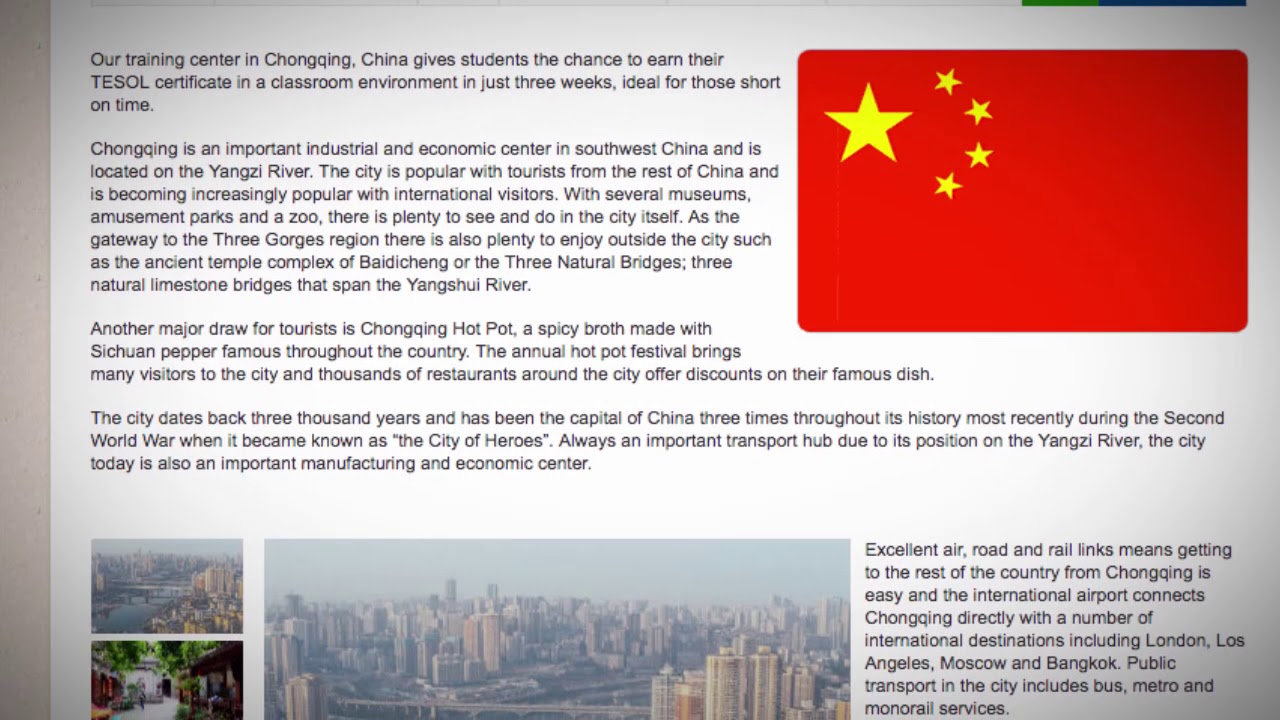 Our training center in Chongqing, China gives students the chance to earn their TESOL certificate in a classroom environment in just three weeks, ideal for those short on time.
Chongqing is an important industrial and economic center in southwest China and is located on the Yangzi River. The city is popular with tourists from the rest of China and is becoming increasingly popular with international visitors. With several museums, amusement parks and a zoo, there is plenty to see and do in the city itself. As the gateway to the Three Gorges region there is also plenty to enjoy outside the city such as the ancient temple complex of Baidicheng or the Three Natural Bridges; three natural limestone bridges that span the Yangshui River.
Another major draw for tourists is Chongqing Hot Pot, a spicy broth made with Sichuan pepper famous throughout the country. The annual hot pot festival brings many visitors to the city and thousands of restaurants around the city offer discounts on their famous dish.
The city dates back three thousand years and has been the capital of China three times throughout its history most recently during the Second World War when it became known as "the City of Heroes". Always an important transport hub due to its position on the Yangzi River, the city today is also an important manufacturing and economic center.
Excellent air, road and rail links means getting to the rest of the country from Chongqing is easy and the international airport connects Chongqing directly with a number of international destinations including London, Los Angeles, Moscow and Bangkok. Public transport in the city includes bus, metro and monorail services.
Chongqing has something to offer everyone; the city is steeped in history and at the same time embraces modern Chinese culture. It is a thriving industrial hub but is located in an area of natural beauty. You can enjoy living in a modern Chinese city while never being too far from the delights nature has to offer.
Find out more about taking a TEFL course in Chongqing here: https://www.tesolcourse.com/tesol/china-chongqing/?cu=YTDESCRIPTION
Are you ready to live and teach abroad? Click here and get started today: https://www.teflcourse.net/?cu=YTDESCRIPTION
Check our wide range of online TEFL & TESOL courses: https://www.teflonline.net/?cu=YTDESCRIPTION