TESOL Course in Florence, Italy | Teach & Live abroad!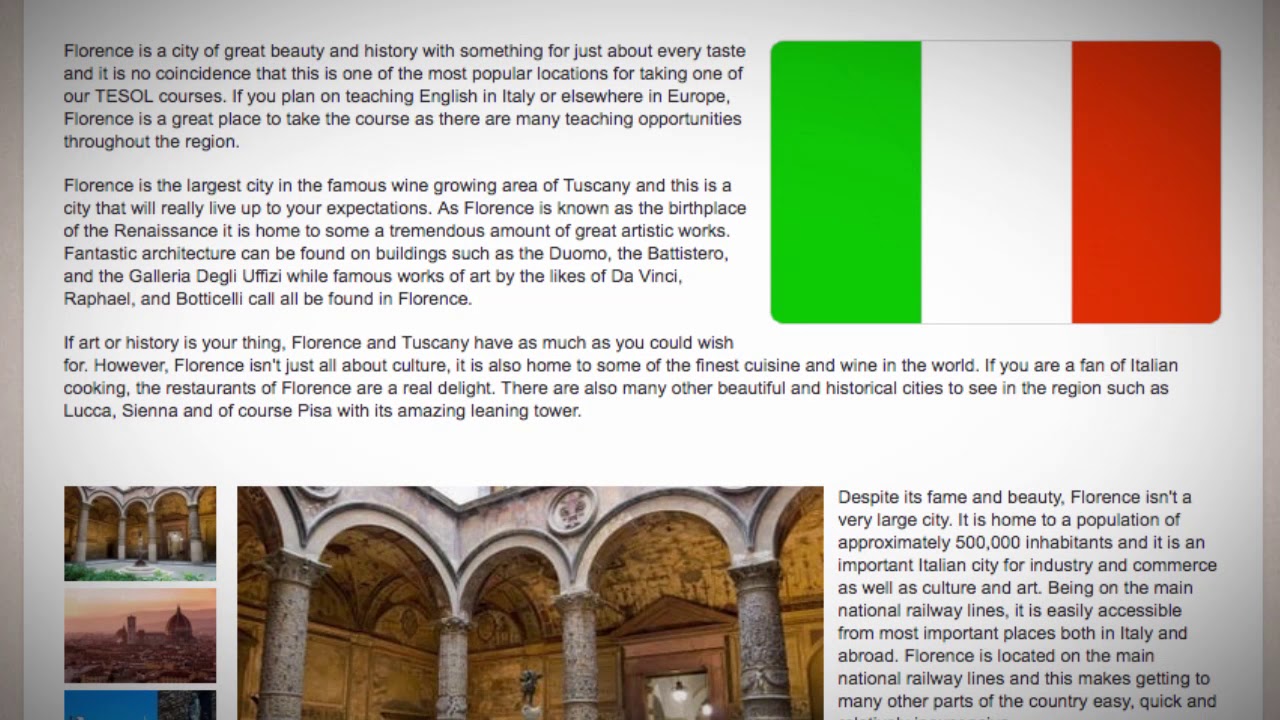 Florence is a city of great beauty and history with something for just about every taste and it is no coincidence that this is one of the most popular locations for taking one of our TESOL courses. If you plan on teaching English in Italy or elsewhere in Europe, Florence is a great place to take the course as there are many teaching opportunities throughout the region.
Florence is the largest city in the famous wine growing area of Tuscany and this is a city that will really live up to your expectations. As Florence is known as the birthplace of the Renaissance it is home to some a tremendous amount of great artistic works. Fantastic architecture can be found on buildings such as the Duomo, the Battistero, and the Galleria Degli Uffizi while famous works of art by the likes of Da Vinci, Raphael, and Botticelli call all be found in Florence.
If art or history is your thing, Florence and Tuscany have as much as you could wish for. However, Florence isn't just all about culture, it is also home to some of the finest cuisine and wine in the world. If you are a fan of Italian cooking, the restaurants of Florence are a real delight. There are also many other beautiful and historical cities to see in the region such as Lucca, Sienna and of course Pisa with its amazing leaning tower.
Despite its fame and beauty, Florence isn't a very large city. It is home to a population of approximately 500,000 inhabitants and it is an important Italian city for industry and commerce as well as culture and art. Being on the main national railway lines, it is easily accessible from most important places both in Italy and abroad. Florence is located on the main national railway lines and this makes getting to many other parts of the country easy, quick and relatively inexpensive.
Florence really is a piece of heaven on earth and is the perfect place for a TESOL course.
Find out more about taking a TEFL course in Florence here: https://www.tesolcourse.com/tesol/italy-florence/?cu=YTDESCRIPTION
Are you ready to live and teach abroad? Click here and get started today: https://www.teflcourse.net/?cu=YTDESCRIPTION
Check our wide range of online TEFL & TESOL courses: https://www.teflonline.net/?cu=YTDESCRIPTION