TESOL Course in Cebu, Philippines | Teach & Live abroad!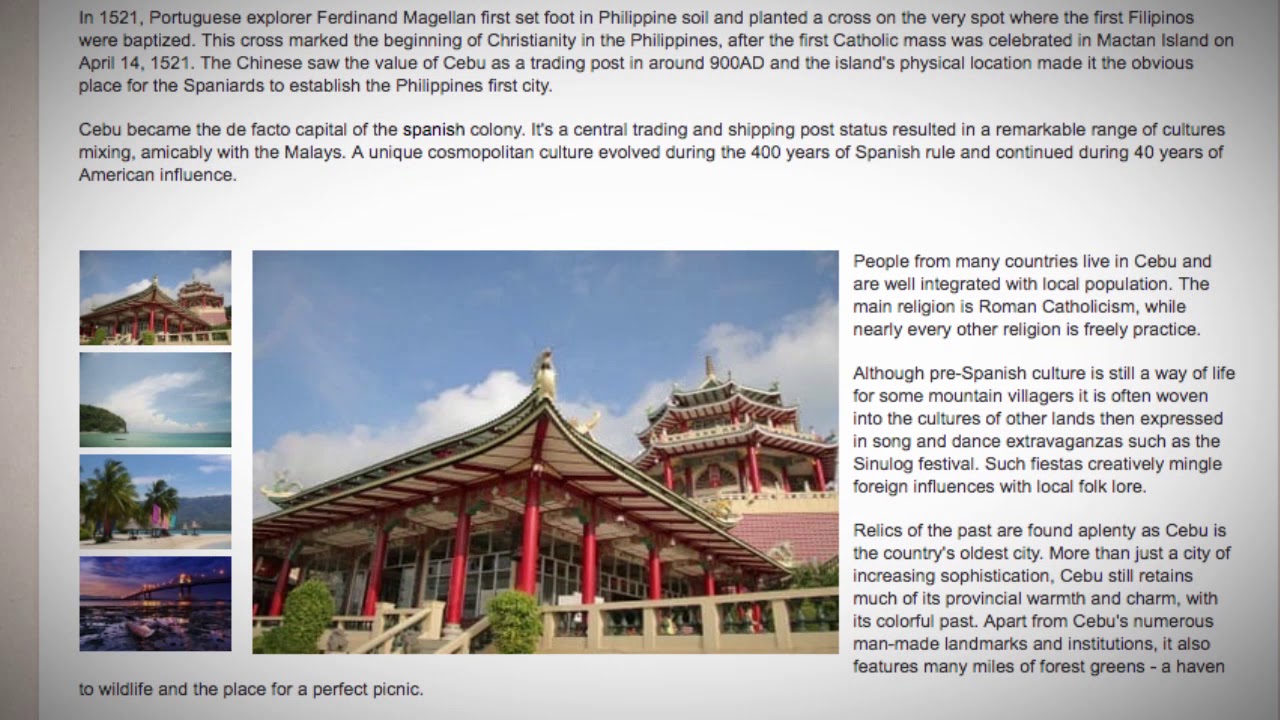 Cebu is a city in the midst of overwhelming growth that blends its ancestral heritage with a modern business edge. Standing as the country's top business and tourist destination, Cebu was crowned as the Queen City of the South. Finding its own place under Cebu's friendly skies, business and leisure coincide together with office buildings and beach resorts.
Cebu is an elongated island some 250 kilometers from North to South and 45 kilometers across at its widest point. It is central to the Philippine archipelago and some 600 kilometers south of Manila. This location combined with a sheltered deep water harbor has made Cebu the base for most of the country's domestic shipping and the gateway to the central and southern Philippines. The island's area of 5,000 square kilometers supports over 3.4 million people of whom over 1.7 million live in Metro Cebu. The east and west coasts are separated by a mountainous spine which rise to 1,000 meters.
The climate is warm, generally 23 to 33° C. Rainfall is evenly distributed throughout the year, except for the summer months from March to May which are dry. Beaches, coral atolls, islands and rich fishing grounds surround Cebu. Cebu's central location, proximity to unusually exotic tourist destinations, ready access to a diversity of plants, animals and geological wonders within the island, and remoteness from earthquake and typhoon activity make Cebu a unique destination.
In 1521, Portuguese explorer Ferdinand Magellan first set foot in Philippine soil and planted a cross on the very spot where the first Filipinos were baptized. This cross marked the beginning of Christianity in the Philippines, after the first Catholic mass was celebrated in Mactan Island on April 14, 1521. The Chinese saw the value of Cebu as a trading post in around 900AD and the island's physical location made it the obvious place for the Spaniards to establish the Philippines first city.
Cebu became the de facto capital of the spanish colony. It's a central trading and shipping post status resulted in a remarkable range of cultures mixing, amicably with the Malays. A unique cosmopolitan culture evolved during the 400 years of Spanish rule and continued during 40 years of American influence.
People from many countries live in Cebu and are well integrated with local population. The main religion is Roman Catholicism, while nearly every other religion is freely practice.
Although pre-Spanish culture is still a way of life for some mountain villagers it is often woven into the cultures of other lands then expressed in song and dance extravaganzas such as the Sinulog festival. Such fiestas creatively mingle foreign influences with local folk lore.
Relics of the past are found aplenty as Cebu is the country's oldest city. More than just a city of increasing sophistication, Cebu still retains much of its provincial warmth and charm, with its colorful past. Apart from Cebu's numerous man-made landmarks and institutions, it also features many miles of forest greens – a haven to wildlife and the place for a perfect picnic.
Cebu is a wonderful place to begin your TESOL experience. A city of numerous white sand beaches, crystal blue waters and swaying palm trees will surely provide an ideal atmosphere for leisure and study. The city also boasts an active nightlife scene, many shopping malls, and incredible diving areas. Cebu experiences a moderate climate and there is sure to be sunshine the whole year through. If you enjoy the relaxing atmosphere of the beach combined with the liveliness of a city, Cebu is a perfect destination for you.
Find out more about taking a TEFL course in Cebu here: https://www.tesolcourse.com/tesol/philippines-cebu/?cu=YTDESCRIPTION
Are you ready to live and teach abroad? Click here and get started today: https://www.teflcourse.net/?cu=YTDESCRIPTION
Check our wide range of online TEFL & TESOL courses: https://www.teflonline.net/?cu=YTDESCRIPTION