TESOL Course in Santorini, Greece | Teach & Live abroad!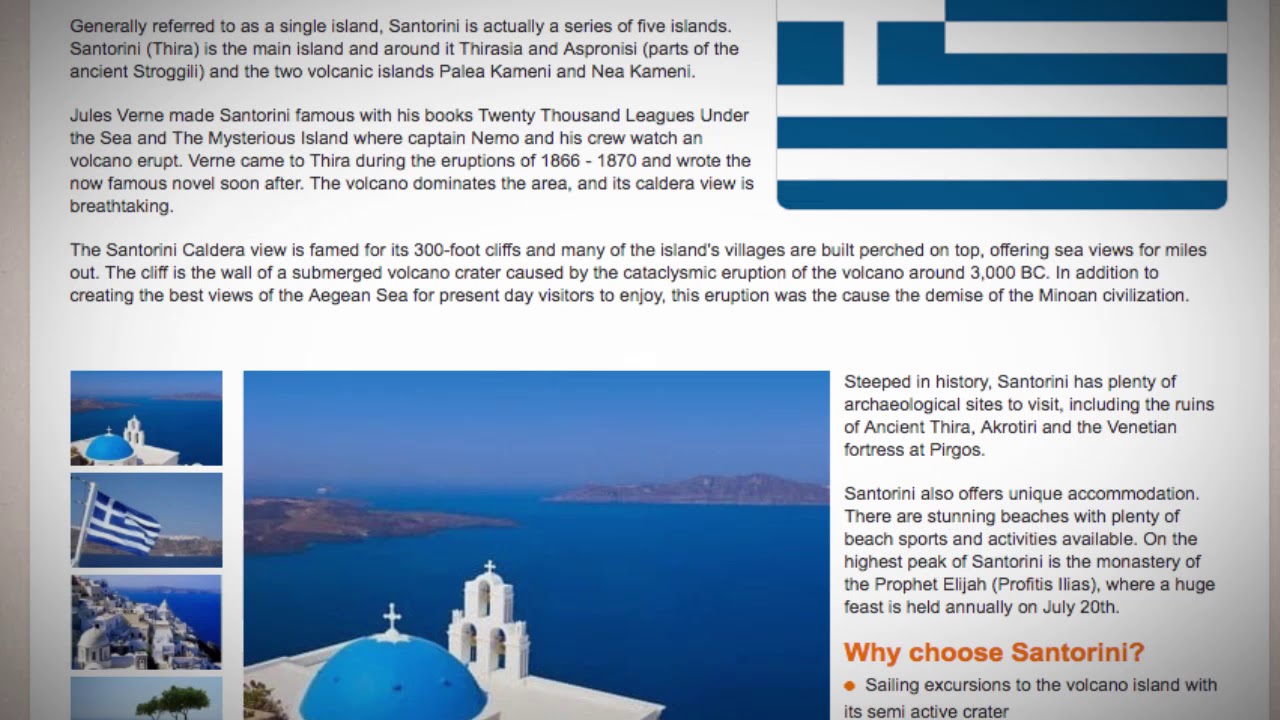 Santorini is many people's idea of the quintessential Greece. The picture-perfect island of Santorini is the last of the Cyclades islands to the south. Surrounding islands include Folegandros, Sikinos, Anafi, Amorgos and Crete.
Generally referred to as a single island, Santorini is actually a series of five islands. Santorini (Thira) is the main island and around it Thirasia and Aspronisi (parts of the ancient Stroggili) and the two volcanic islands Palea Kameni and Nea Kameni.
Jules Verne made Santorini famous with his books Twenty Thousand Leagues Under the Sea and The Mysterious Island where captain Nemo and his crew watch an volcano erupt. Verne came to Thira during the eruptions of 1866 – 1870 and wrote the now famous novel soon after. The volcano dominates the area, and its caldera view is breathtaking.
The Santorini Caldera view is famed for its 300-foot cliffs and many of the island's villages are built perched on top, offering sea views for miles out. The cliff is the wall of a submerged volcano crater caused by the cataclysmic eruption of the volcano around 3,000 BC. In addition to creating the best views of the Aegean Sea for present day visitors to enjoy, this eruption was the cause the demise of the Minoan civilization.
Steeped in history, Santorini has plenty of archaeological sites to visit, including the ruins of Ancient Thira, Akrotiri and the Venetian fortress at Pirgos.
Santorini also offers unique accommodation. There are stunning beaches with plenty of beach sports and activities available. On the highest peak of Santorini is the monastery of the Prophet Elijah (Profitis Ilias), where a huge feast is held annually on July 20th.
Why choose Santorini?
Sailing excursions to the volcano island with its semi active crater
Sunset sailing excursions around the island to see the caldera face from the sea
Scuba and beach sports in Perissa
Romantic meals in the charming village of Oia watching the sunset
The Nautical Museum in Oia
A visit to the Minoan village of Akrotiri, preserved Pompeii-style.
The New Museum of Fira exhibits frescoes from Akrotiri and the first golden find in Cyclades
The Old Historical Museum in Fira, with finds from Santorini and the Greek Hellenic Period
Boutaris Winemakers, in Megalohori, for wine tasting and a multimedia history of the island
Santorini is one of Patricia Shultz's, 1,000 Places to See Before You Die.
Ferry trips take you to the other Cyclades islands, including Mykonos and Delos—also among Shultz's 1,000 places that must be seen.
Find out more about taking a TEFL course in Santorini here: https://www.tesolcourse.com/tesol/greece-santorini/?cu=YTDESCRIPTION
Are you ready to live and teach abroad? Click here and get started today: https://www.teflcourse.net/?cu=YTDESCRIPTION
Check our wide range of online TEFL & TESOL courses: https://www.teflonline.net/?cu=YTDESCRIPTION