TESOL Course in Limerick, Ireland | Teach & Live abroad!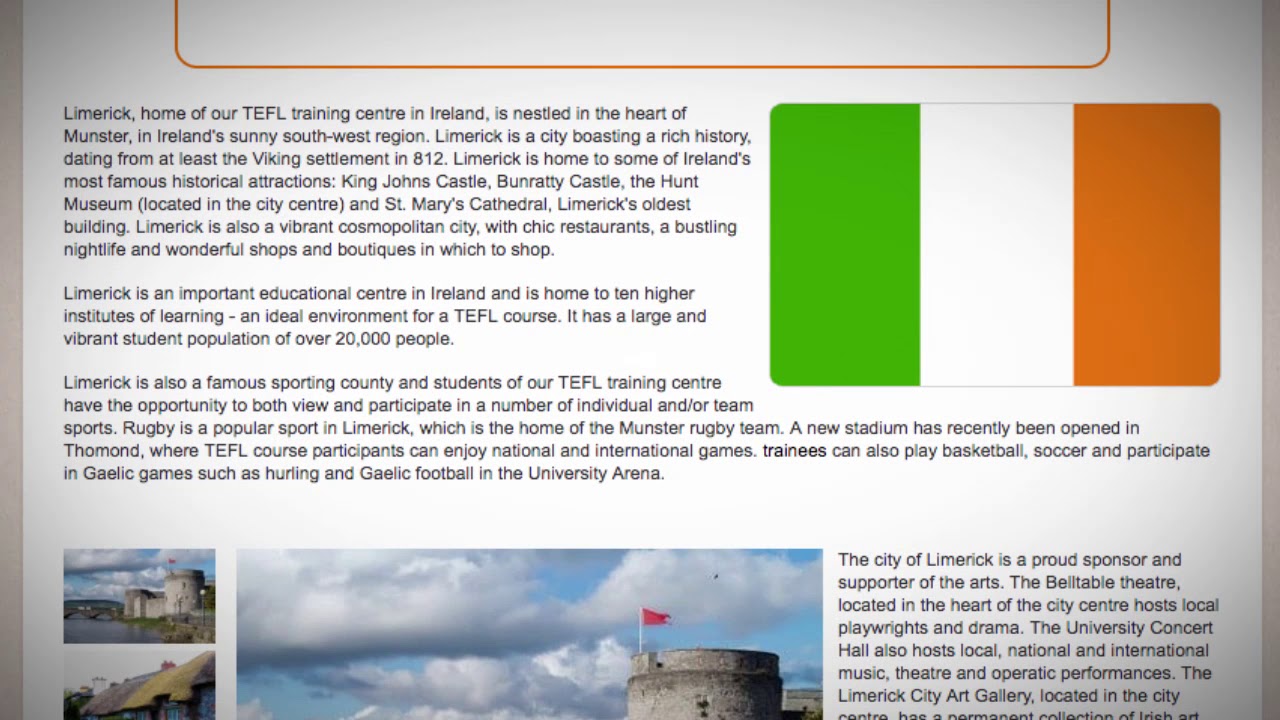 Limerick, home of our TEFL training centre in Ireland, is nestled in the heart of Munster, in Ireland's sunny south-west region. Limerick is a city boasting a rich history, dating from at least the Viking settlement in 812. Limerick is home to some of Ireland's most famous historical attractions: King Johns Castle, Bunratty Castle, the Hunt Museum (located in the city centre) and St. Mary's Cathedral, Limerick's oldest building. Limerick is also a vibrant cosmopolitan city, with chic restaurants, a bustling nightlife and wonderful shops and boutiques in which to shop.
Limerick is an important educational centre in Ireland and is home to ten higher institutes of learning – an ideal environment for a TEFL course. It has a large and vibrant student population of over 20,000 people.
Limerick is also a famous sporting county and students of our TEFL training centre have the opportunity to both view and participate in a number of individual and/or team sports. Rugby is a popular sport in Limerick, which is the home of the Munster rugby team. A new stadium has recently been opened in Thomond, where TEFL course participants can enjoy national and international games. trainees can also play basketball, soccer and participate in Gaelic games such as hurling and Gaelic football in the University Arena.
The city of Limerick is a proud sponsor and supporter of the arts. The Belltable theatre, located in the heart of the city centre hosts local playwrights and drama. The University Concert Hall also hosts local, national and international music, theatre and operatic performances. The Limerick City Art Gallery, located in the city centre, has a permanent collection of Irish art and is the city's main exhibitor of contemporary art.
There truly is something for all TEFL course participants to enjoy in Limerick. Should you want to travel further afield, Limerick bus and rail services provide the opportunity to explore other parts of Ireland, including the vibrant capital city Dublin, or the stunningly beautiful west coast of Ireland.
Why study in Limerick
Because English is the mother tongue of Ireland. To discover a city with a rich history. Take advantage of your free time to explore the beautiful west coast of Ireland. To sample traditional Irish food and music in a warm and friendly atmosphere. To meet people from all over the world. To study in a warm and friendly family atmosphere. Your fellow students come from different countries and backgrounds. Your teacher trainers are some of the most experienced and well-trained in the industry. Your support staff is extremely helpful, courteous and will assist you with whatever you need. The locals are friendly, welcoming people who generally like spending time with foreigners.
Find out more about taking a TEFL course in Limerick here: https://www.tesolcourse.com/tesol/ireland-limerick/?cu=YTDESCRIPTION
Are you ready to live and teach abroad? Click here and get started today: https://www.teflcourse.net/?cu=YTDESCRIPTION
Check our wide range of online TEFL & TESOL courses: https://www.teflonline.net/?cu=YTDESCRIPTION