TESOL Course in Germany | Teach & Live abroad!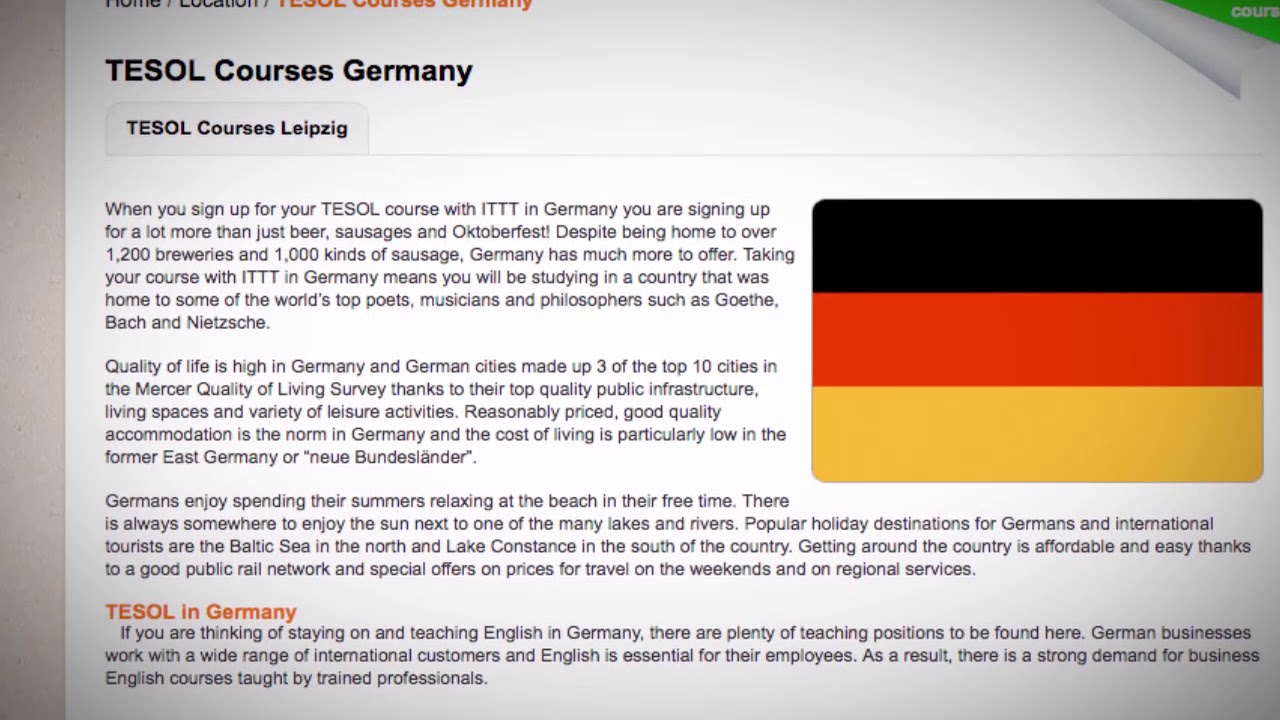 When you sign up for your TESOL course with ITTT in Germany you are signing up for a lot more than just beer, sausages and Oktoberfest! Despite being home to over 1,200 breweries and 1,000 kinds of sausage, Germany has much more to offer. Taking your course with ITTT in Germany means you will be studying in a country that was home to some of the world's top poets, musicians and philosophers such as Goethe, Bach and Nietzsche.
Quality of life is high in Germany and German cities made up 3 of the top 10 cities in the Mercer Quality of Living Survey thanks to their top quality public infrastructure, living spaces and variety of leisure activities. Reasonably priced, good quality accommodation is the norm in Germany and the cost of living is particularly low in the former East Germany or "neue Bundesländer".
Germans enjoy spending their summers relaxing at the beach in their free time. There is always somewhere to enjoy the sun next to one of the many lakes and rivers. Popular holiday destinations for Germans and international tourists are the Baltic Sea in the north and Lake Constance in the south of the country. Getting around the country is affordable and easy thanks to a good public rail network and special offers on prices for travel on the weekends and on regional services.
TESOL in Germany
If you are thinking of staying on and teaching English in Germany, there are plenty of teaching positions to be found here. German businesses work with a wide range of international customers and English is essential for their employees. As a result, there is a strong demand for business English courses taught by trained professionals.
Find out more about taking a TEFL course in Germany here: https://www.tesolcourse.com/tesol/germany/?cu=YTDESCRIPTION
Are you ready to live and teach abroad? Click here and get started today: https://www.teflcourse.net/?cu=YTDESCRIPTION
Check our wide range of online TEFL & TESOL courses: https://www.teflonline.net/?cu=YTDESCRIPTION