TESOL Course in Granada, Spain | Teach & Live abroad!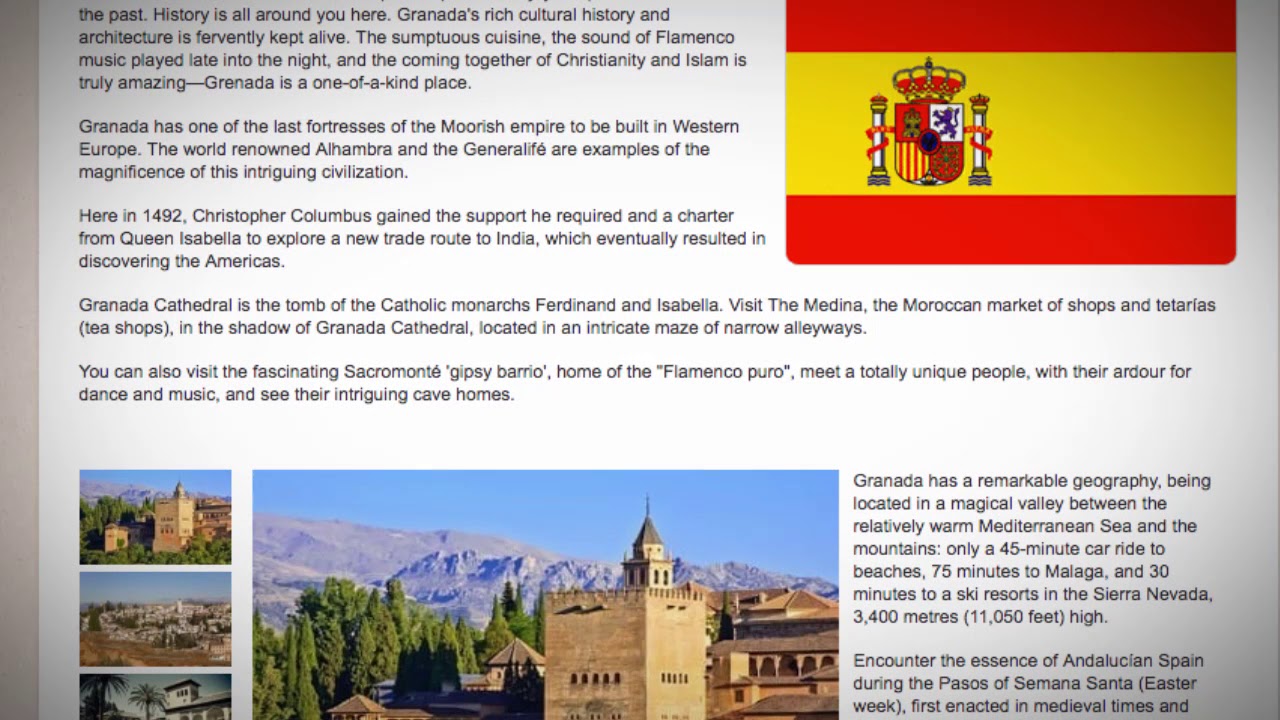 The Granada TESOL course is in the perfect place to enjoy the present and discover the past. History is all around you here. Granada's rich cultural history and architecture is fervently kept alive. The sumptuous cuisine, the sound of Flamenco music played late into the night, and the coming together of Christianity and Islam is truly amazing—Grenada is a one-of-a-kind place.
Granada has one of the last fortresses of the Moorish empire to be built in Western Europe. The world renowned Alhambra and the Generalifé are examples of the magnificence of this intriguing civilization.
Here in 1492, Christopher Columbus gained the support he required and a charter from Queen Isabella to explore a new trade route to India, which eventually resulted in discovering the Americas.
Granada Cathedral is the tomb of the Catholic monarchs Ferdinand and Isabella. Visit The Medina, the Moroccan market of shops and tetarías (tea shops), in the shadow of Granada Cathedral, located in an intricate maze of narrow alleyways.
You can also visit the fascinating Sacromonté 'gipsy barrio', home of the "Flamenco puro", meet a totally unique people, with their ardor for dance and music, and see their intriguing cave homes.
Granada has a remarkable geography, being located in a magical valley between the relatively warm Mediterranean Sea and the mountains: only a 45-minute car ride to beaches, 75 minutes to Malaga, and 30 minutes to a ski resorts in the Sierra Nevada, 3,400 metres (11,050 feet) high.
Encounter the essence of Andalucían Spain during the Pasos of Semana Santa (Easter week), first enacted in medieval times and portraying the Passion of Christ. Costaleros carry massive, heavy statues of the Virgin Mary, Christ, and saints on their shoulders and process from the many churches in Granada, winding through the streets and into the Cathedral, finally returning to their own churches. Some of these journeys take 14 hours! The ancient brotherhood of the Cofradía, dedicated to the preservation of this and other celebrations throughout the year, takes part in the processions and decorates the statues, particularly those of the Virgin Mary.
Don't miss the Andalucían food, while visiting here. This cuisine is characterized by simple, yet delicious flavours. Favourites include Pescado Frito: fish delicately coated with flour and sautéed in olive oil; Gazpacho: the famous cold tomato soup, a vegetable cream made with cucumber, garlic, paprika, olive-oil, vinegar and served with bread; Patatas Pobre: a hot pot of vegetables and potatoes; Huevos a la Flamenca: a fried egg in tomato sauce with Chorizo, a spicy spanish sausage; and of course the delectable Paella!
Enjoy the social experience of "tapas", a famous daily Andalucian tradition, at one of the very many bars in the city; a favourite way to snack and get to know some people.
Find out more about taking a TEFL course in Granada here: https://www.tesolcourse.com/tesol/spain-granada/?cu=YTDESCRIPTION
Are you ready to live and teach abroad? Click here and get started today: https://www.teflcourse.net/?cu=YTDESCRIPTION
Check our wide range of online TEFL & TESOL courses: https://www.teflonline.net/?cu=YTDESCRIPTION