TESOL Course in Manuel Antonio, Costa Rica | Teach & Live abroad!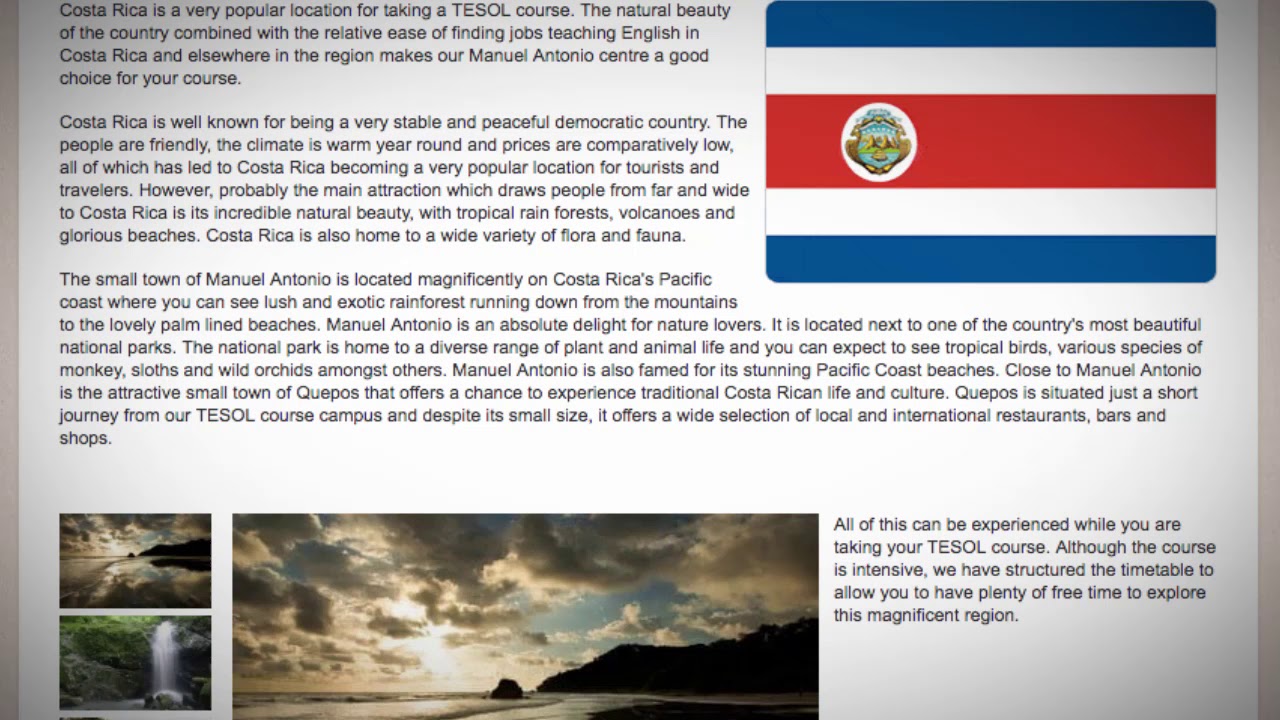 Costa Rica is a very popular location for taking a TESOL course. The natural beauty of the country combined with the relative ease of finding jobs teaching English in Costa Rica and elsewhere in the region makes our Manuel Antonio centre a good choice for your course.
Costa Rica is well known for being a very stable and peaceful democratic country. The people are friendly, the climate is warm year round and prices are comparatively low, all of which has led to Costa Rica becoming a very popular location for tourists and travelers. However, probably the main attraction which draws people from far and wide to Costa Rica is its incredible natural beauty, with tropical rain forests, volcanoes and glorious beaches. Costa Rica is also home to a wide variety of flora and fauna.
The small town of Manuel Antonio is located magnificently on Costa Rica's Pacific coast where you can see lush and exotic rainforest running down from the mountains to the lovely palm lined beaches. Manuel Antonio is an absolute delight for nature lovers. It is located next to one of the country's most beautiful national parks. The national park is home to a diverse range of plant and animal life and you can expect to see tropical birds, various species of monkey, sloths and wild orchids amongst others. Manuel Antonio is also famed for its stunning Pacific Coast beaches. Close to Manuel Antonio is the attractive small town of Quepos that offers a chance to experience traditional Costa Rican life and culture. Quepos is situated just a short journey from our TESOL course campus and despite its small size, it offers a wide selection of local and international restaurants, bars and shops.
All of this can be experienced while you are taking your TESOL course. Although the course is intensive, we have structured the timetable to allow you to have plenty of free time to explore this magnificent region.
Find out more about taking a TEFL course in Manuel Antonio here: https://www.tesolcourse.com/tesol/costa-rica-manuel-antonio/?cu=YTDESCRIPTION
Are you ready to live and teach abroad? Click here and get started today: https://www.teflcourse.net/?cu=YTDESCRIPTION
Check our wide range of online TEFL & TESOL courses: https://www.teflonline.net/?cu=YTDESCRIPTION