TESOL Course in Vietnam | Teach & Live abroad!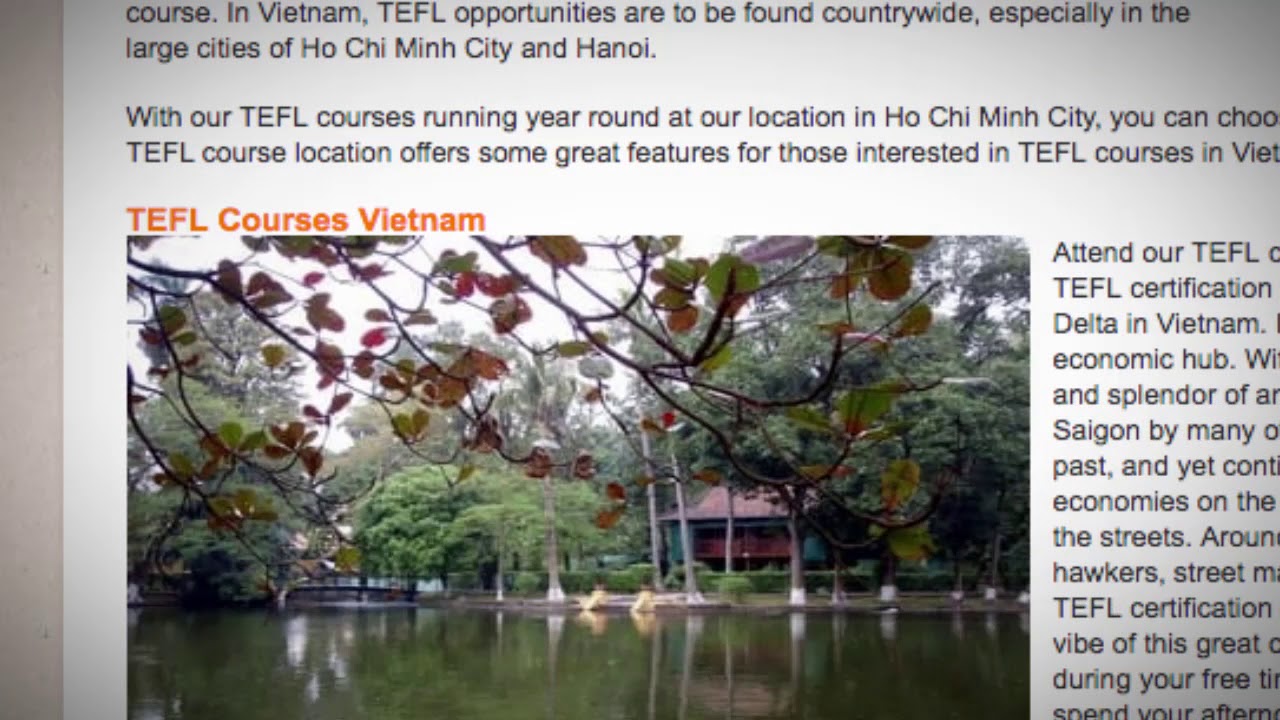 Our TEFL course in Vietnam gives you the opportunity to learn how to teach English in one of the most interesting countries in the world.
Vietnam is considered by many as one of the most fascinating countries anywhere. When you combine the great food, the lively cities, it's complex history, and low cost of living, you can see why it has achieved such a good reputation and is a growing destination for TEFL courses and teaching English.
TEFL Vietnam
For those interested in taking a TEFL in Vietnam and teaching English as a foreign language here, the demand is very high for English language teachers year round, and you are sure to be offered a TEFL position soon after completing your TEFL course. In Vietnam, TEFL opportunities are to be found countrywide, especially in the large cities of Ho Chi Minh City and Hanoi.
With our TEFL courses running year round at our location in Ho Chi Minh City, you can choose which time of year you'd like to learn TEFL. Our TEFL course location offers some great features for those interested in TEFL courses in Vietnam
TEFL Courses Vietnam
Attend our TEFL course in Ho Chi Minh City and you will earn your TEFL certification in a bustling city located near the Mekong River Delta in Vietnam. It is the largest city in Vietnam, and is its cultural and economic hub. Within the crowded conurbation, the timeless traditions and splendor of an ancient culture still abound. Still referred to as Saigon by many of the locals, Ho Chi Mihn City has seen a turbulent past, and yet continues to thrive as one of the fastest growing economies on the planet. Most of the action in HCMC takes place in the streets. Around every corner you will find sidewalk cafes, vendors, hawkers, street markets, and shops selling their wares. Join us at our TEFL certification course in Vietnam and find yourself caught up in the vibe of this great city. There are many places and things to enjoy during your free time while attending the TEFL course here. You can spend your afternoon visiting the Reunification, or Independence Palace, visit the War Remnants Museum and the Museum of Vietnamese History, and stop in at the Notre Dame Cathedral or one of the many Pagodas throughout the city. There are also many water parks to enjoy, as well as night markets and cinemas. At the end of your course day, you can enjoy some of the delicious and cheap food, then go on to one of the clubs or bars in one of the many popular night venues. Ho Chi Minh City is a great location for your TEFL course in Vietnam.
Following your TEFL course, you can expect TEFL employment in one of the thousands of schools in Vietnam. We are also in a prime location for you to go on and teach in Cambodia, China, South Korea, Taiwan, and all Asian countries, should you wish to do so
Gaining your first English teaching post is an important step in ensuring you have an enjoyable time teaching English. Here in Vietnam you are sure to be offered an English teaching job. If Vietnam is not to your liking, then you are in a great location to access English teaching jobs throughout Asia.
Find out more about taking a TEFL course in Vietnam here: https://www.tesolcourse.com/tesol/vietnam/?cu=YTDESCRIPTION
Are you ready to live and teach abroad? Click here and get started today: https://www.teflcourse.net/?cu=YTDESCRIPTION
Check our wide range of online TEFL & TESOL courses: https://www.teflonline.net/?cu=YTDESCRIPTION