TESOL Course in Zhuhai, China | Teach & Live abroad!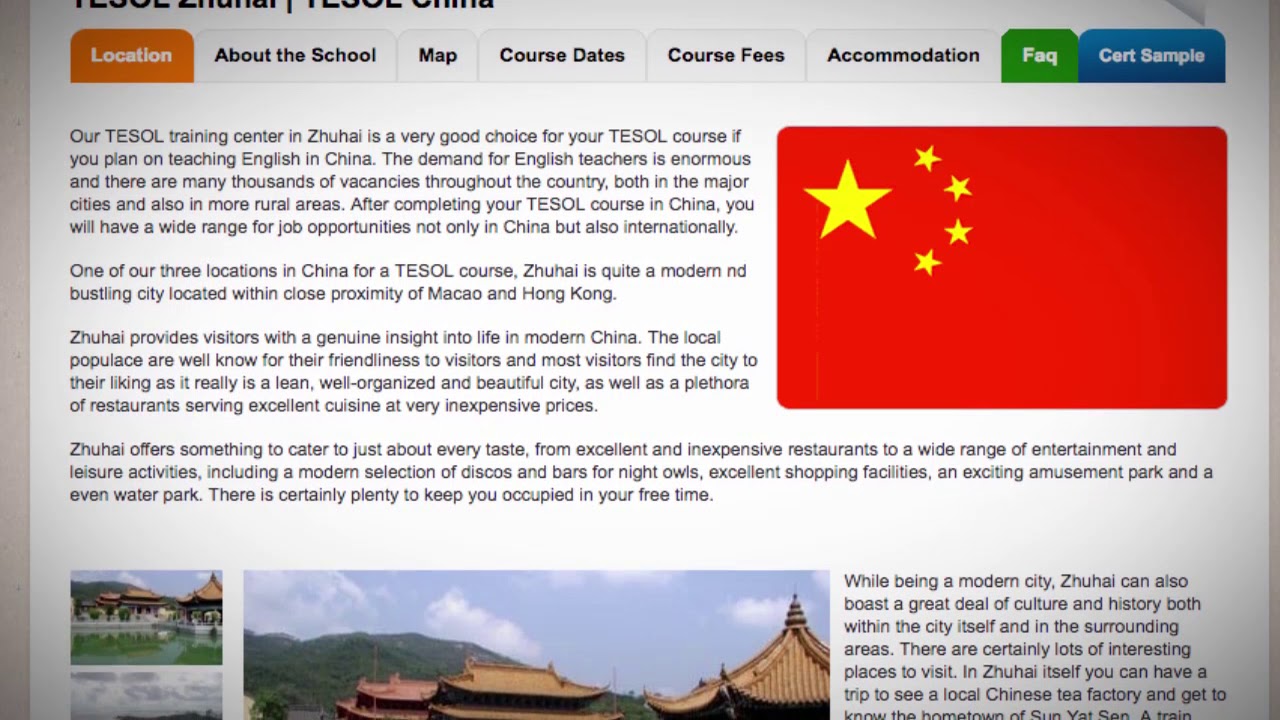 Our TESOL training center in Zhuhai is a very good choice for your TESOL course if you plan on teaching English in China. The demand for English teachers is enormous and there are many thousands of vacancies throughout the country, both in the major cities and also in more rural areas. After completing your TESOL course in China, you will have a wide range for job opportunities not only in China but also internationally.
One of our three locations in China for a TESOL course, Zhuhai is quite a modern nd bustling city located within close proximity of Macao and Hong Kong.
Zhuhai provides visitors with a genuine insight into life in modern China. The local populace are well know for their friendliness to visitors and most visitors find the city to their liking as it really is a lean, well-organized and beautiful city, as well as a plethora of restaurants serving excellent cuisine at very inexpensive prices.
Zhuhai offers something to cater to just about every taste, from excellent and inexpensive restaurants to a wide range of entertainment and leisure activities, including a modern selection of discos and bars for night owls, excellent shopping facilities, an exciting amusement park and a even water park. There is certainly plenty to keep you occupied in your free time.
While being a modern city, Zhuhai can also boast a great deal of culture and history both within the city itself and in the surrounding areas. There are certainly lots of interesting places to visit. In Zhuhai itself you can have a trip to see a local Chinese tea factory and get to know the hometown of Sun Yat Sen. A train journey to the metropolis of Shanghai or Beijing where you will have the chance to see some of the wonders of the Eater world such as Forbidden City and the Great Wall.
Nearby Hong Kong is a world famous center of finance in the region and is also a very cosmopolitan city. Hong Kong offers you the opportunity to witness all the excitement of this busy and bustling city. Even closer to Zhuhai is Macao which is known as the gambling capital of Asia with its wide variety of casinos, exciting nightlife and many other entertainment facilities. Macao is just a short taxi ride and border crossing away.
Zhuhai offers a fascinating blend of modern and ancient with a wealth of culture and tradition, a remarkably diverse and attractive landscape and exciting leisure and entertainment facilities. This combined with the huge number of tesol job opportunities throughout China and Asia makes Zhuhai an ideal location for your TESOL course and a base from which to begin your experience in teaching english abroad.
Find out more about taking a TEFL course in Zhuhai here: https://www.tesolcourse.com/tesol/china-zhuhai/?cu=YTDESCRIPTION
Are you ready to live and teach abroad? Click here and get started today: https://www.teflcourse.net/?cu=YTDESCRIPTION
Check our wide range of online TEFL & TESOL courses: https://www.teflonline.net/?cu=YTDESCRIPTION