TESOL Course in Sydney, Australia | Teach & Live abroad!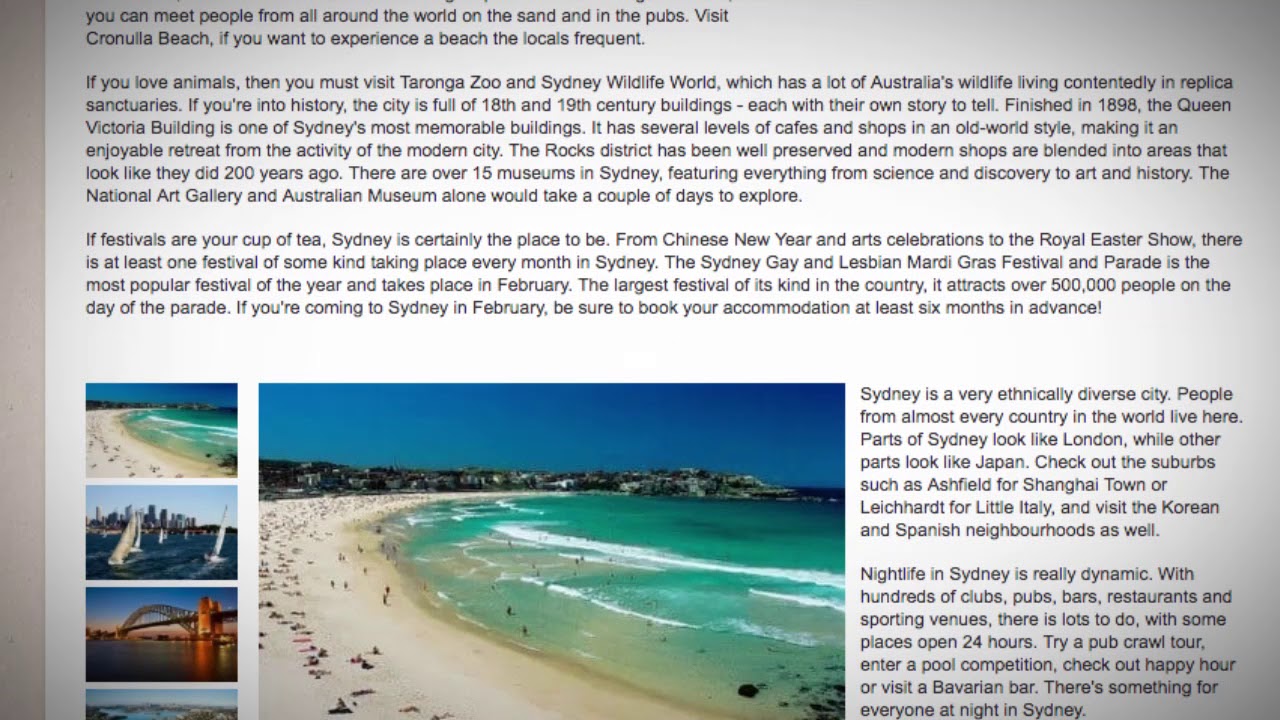 Our Australian TESOL training centre is in Sydney, a city many believe to be the most popular multicultural city in the southern hemisphere. Many come to this vibrant metropolis of 4.5 million people to see the majestic Harbour Bridge, the fabled Opera House, the historic area of The Rocks, the stylish Sydney Tower, Darling Harbour and a number of other attractions. Sydney has many exciting opportunities for you during your stay.
The city of Sydney is very near a number of really beautiful beaches, national parks, and fun urban areas. With its clean air and bright, sunny blue sky, it's not hard to understand why over 10 million tourists visit Sydney yearly.
The most popular beach in Sydney is Bondi Beach, with its collection of shops and restaurants, beautiful scenic views and fun night spots. Most tourists gather here, so you can meet people from all around the world on the sand and in the pubs. Visit Cronulla Beach, if you want to experience a beach the locals frequent.
If you love animals, then you must visit Taronga Zoo and Sydney Wildlife World, which has a lot of Australia's wildlife living contentedly in replica sanctuaries. If you're into history, the city is full of 18th and 19th century buildings – each with their own story to tell. Finished in 1898, the Queen Victoria Building is one of Sydney's most memorable buildings. It has several levels of cafes and shops in an old-world style, making it an enjoyable retreat from the activity of the modern city. The Rocks district has been well preserved and modern shops are blended into areas that look like they did 200 years ago. There are over 15 museums in Sydney, featuring everything from science and discovery to art and history. The National Art Gallery and Australian Museum alone would take a couple of days to explore.
If festivals are your cup of tea, Sydney is certainly the place to be. From Chinese New Year and arts celebrations to the Royal Easter Show, there is at least one festival of some kind taking place every month in Sydney. The Sydney Gay and Lesbian Mardi Gras Festival and Parade is the most popular festival of the year and takes place in February. The largest festival of its kind in the country, it attracts over 500,000 people on the day of the parade. If you're coming to Sydney in February, be sure to book your accommodation at least six months in advance!
Sydney is a very ethnically diverse city. People from almost every country in the world live here. Parts of Sydney look like London, while other parts look like Japan. Check out the suburbs such as Ashfield for Shanghai Town or Leichhardt for Little Italy, and visit the Korean and Spanish neighbourhoods as well.
Nightlife in Sydney is really dynamic. With hundreds of clubs, pubs, bars, restaurants and sporting venues, there is lots to do, with some places open 24 hours. Try a pub crawl tour, enter a pool competition, check out happy hour or visit a Bavarian bar. There's something for everyone at night in Sydney.
Sydney continues to build its huge train system, with new stations and networks appearing all the time. Trains will take you from the airport into the city. If there isn't a convenient train to take you where you want to go, you'll find a bus or taxi. If you're staying for a while, consider renting a car. Several main arteries throughout the town make navigating fairly quick and painless, and there's no beating a drive over the Sydney Harbour Bridge. Bus tickets are available throughout the city, with several options to choose from that can also make use of ferries from Circular Quay to Manly.
Find out more about taking a TEFL course in Sydney here: https://www.tesolcourse.com/tesol/australia-sydney/?cu=YTDESCRIPTION
Are you ready to live and teach abroad? Click here and get started today: https://www.teflcourse.net/?cu=YTDESCRIPTION
Check our wide range of online TEFL & TESOL courses: https://www.teflonline.net/?cu=YTDESCRIPTION