TESOL Course in Siem Reap, Cambodia | Teach & Live abroad!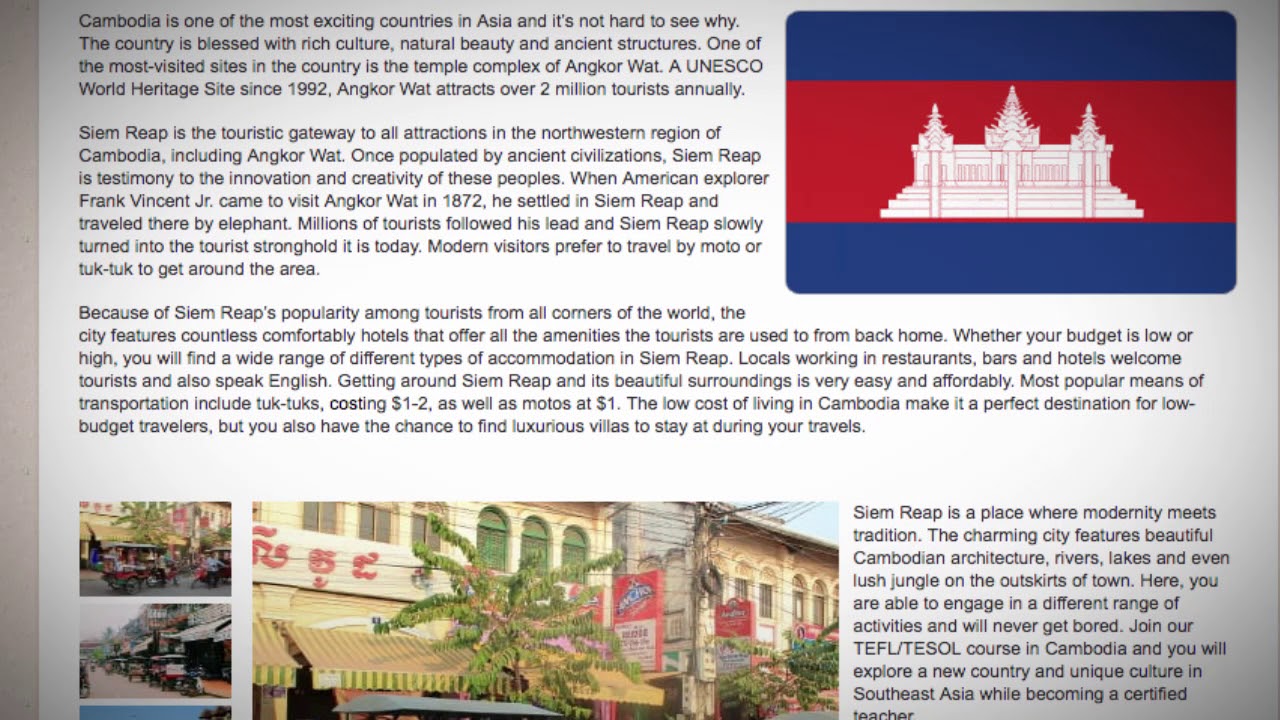 Cambodia is one of the most exciting countries in Asia and it's not hard to see why. The country is blessed with rich culture, natural beauty and ancient structures. One of the most-visited sites in the country is the temple complex of Angkor Wat. A UNESCO World Heritage Site since 1992, Angkor Wat attracts over 2 million tourists annually.
Siem Reap is the touristic gateway to all attractions in the northwestern region of Cambodia, including Angkor Wat. Once populated by ancient civilizations, Siem Reap is testimony to the innovation and creativity of these peoples. When American explorer Frank Vincent Jr. came to visit Angkor Wat in 1872, he settled in Siem Reap and traveled there by elephant. Millions of tourists followed his lead and Siem Reap slowly turned into the tourist stronghold it is today. Modern visitors prefer to travel by moto or tuk-tuk to get around the area.
Because of Siem Reap's popularity among tourists from all corners of the world, the city features countless comfortably hotels that offer all the amenities the tourists are used to from back home. Whether your budget is low or high, you will find a wide range of different types of accommodation in Siem Reap. Locals working in restaurants, bars and hotels welcome tourists and also speak English. Getting around Siem Reap and its beautiful surroundings is very easy and affordably. Most popular means of transportation include tuk-tuks, costing $1-2, as well as motos at $1. The low cost of living in Cambodia make it a perfect destination for low-budget travelers, but you also have the chance to find luxurious villas to stay at during your travels.
Siem Reap is a place where modernity meets tradition. The charming city features beautiful Cambodian architecture, rivers, lakes and even lush jungle on the outskirts of town. Here, you are able to engage in a different range of activities and will never get bored. Join our TEFL/TESOL course in Cambodia and you will explore a new country and unique culture in Southeast Asia while becoming a certified teacher.
Find out more about taking a TEFL course in Siem Reap here: https://www.tesolcourse.com/tesol/cambodia-siem-reap/?cu=YTDESCRIPTION
Are you ready to live and teach abroad? Click here and get started today: https://www.teflcourse.net/?cu=YTDESCRIPTION
Check our wide range of online TEFL & TESOL courses: https://www.teflonline.net/?cu=YTDESCRIPTION