TESOL Course in Shanghai, China | Teach & Live abroad!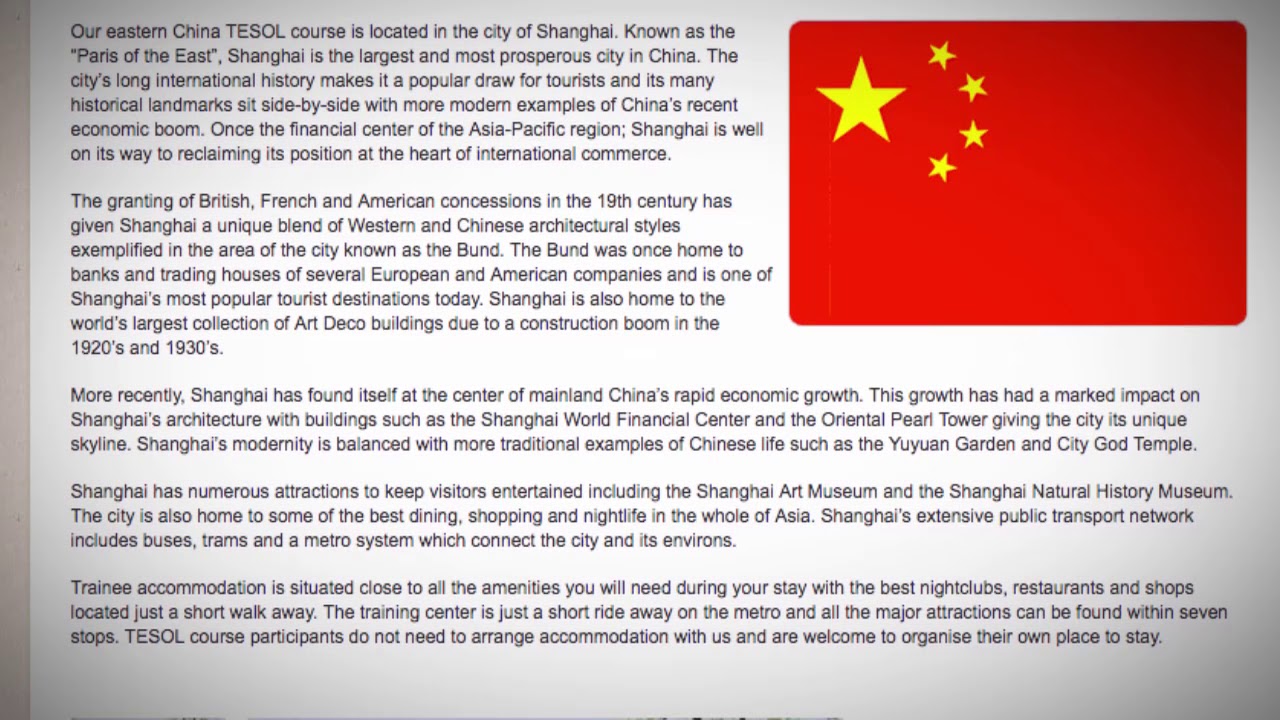 Our eastern China TESOL course is located in the city of Shanghai. Known as the "Paris of the East", Shanghai is the largest and most prosperous city in China. The city's long international history makes it a popular draw for tourists and its many historical landmarks sit side-by-side with more modern examples of China's recent economic boom. Once the financial center of the Asia-Pacific region; Shanghai is well on its way to reclaiming its position at the heart of international commerce.
The granting of British, French and American concessions in the 19th century has given Shanghai a unique blend of Western and Chinese architectural styles exemplified in the area of the city known as the Bund. The Bund was once home to banks and trading houses of several European and American companies and is one of Shanghai's most popular tourist destinations today. Shanghai is also home to the world's largest collection of Art Deco buildings due to a construction boom in the 1920's and 1930's.
More recently, Shanghai has found itself at the center of mainland China's rapid economic growth. This growth has had a marked impact on Shanghai's architecture with buildings such as the Shanghai World Financial Center and the Oriental Pearl Tower giving the city its unique skyline. Shanghai's modernity is balanced with more traditional examples of Chinese life such as the Yuyuan Garden and City God Temple.
Shanghai has numerous attractions to keep visitors entertained including the Shanghai Art Museum and the Shanghai Natural History Museum. The city is also home to some of the best dining, shopping and nightlife in the whole of Asia. Shanghai's extensive public transport network includes buses, trams and a metro system which connect the city and its environs.
Trainee accommodation is situated close to all the amenities you will need during your stay with the best nightclubs, restaurants and shops located just a short walk away. The training center is just a short ride away on the metro and all the major attractions can be found within seven stops. TESOL course participants do not need to arrange accommodation with us and are welcome to organise their own place to stay.
The course fees listed on our website include all course-related lessons, materials, teaching practice, assessments, certificates, references, lifetime job assistance and more. There are no hidden costs or extra charges and the prices you see on the website are the prices you will pay.
Getting Started
All fluent English speakers aged 18 years and over are eligible to apply for our course. The application process takes no time at all and you will receive a prompt response from us. Once your application has been approved, you will then receive further information regarding the content of the course and study schedule, as well as accommodation choice, travel arrangements and payment options. Bear in mind that just because you take your course in Shanghai, it doesn't mean you have to stay here to teach. Lifetime job assistance is included with your course and this extends to other parts of the world and our certificates are recognized globally.
Please note that due to recent regulation changes only native speakers of English can work legally as teachers in China, though there are no nationality restrictions for attending the course in Shanghai.
Find out more about taking a TEFL course in Shanghai here: https://www.tesolcourse.com/tesol/china-shanghai/?cu=YTDESCRIPTION
Are you ready to live and teach abroad? Click here and get started today: https://www.teflcourse.net/?cu=YTDESCRIPTION
Check our wide range of online TEFL & TESOL courses: https://www.teflonline.net/?cu=YTDESCRIPTION