TESOL Jobs in Japan | International TEFL and TESOL Training (ITTT)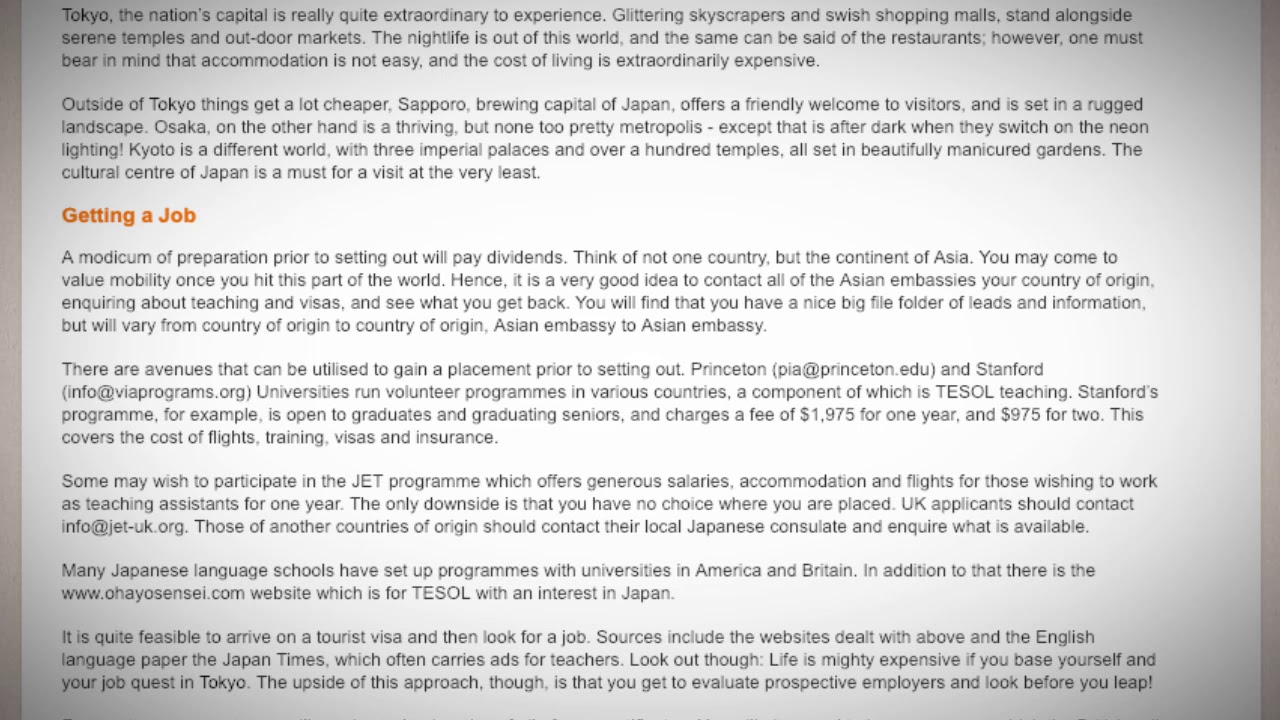 Japan can present the traveller with a bewildering combination of culture, manners, beauty, architecture and personalities. Whether one goes to Fuji San – mount Fuji, to admire it's serene beauty, or one parties all night long in Roppongi – the nightclub district of Tokyo, one is constantly taken aback and presented with the unexpected. At times a shade frustrating, such as when you are on a train so crowded that you go three stops past the one you wanted because you cannot move. Hence, the 'gaijin', or foreigner learns to laugh about these things and accepts them as a part of life.
A population of one-hundred and twenty seven millions is jammed into a landmass of one-hundred and forty five square miles. Indeed, the population density in the big cities is amazing. The official language is Japanese, but plenty of people in the big cities speak English, though don't be surprised if it is katakana English – 'blakely' for 'bakery', and 'rub rub me do' for 'love love me do'. The confusion between 'L' and 'R' is widespread. This may be amusing; however, less so when you find yourself having to speak this way to make yourself understood. With this said, Japanese is not tonal, the curse of learning many Asian languages, the grammar, like English is actually very easy to pick up, and one can quickly develop a variety of useful phrases. It should be noted that Japanese is expressed in three types of writing, so becoming literate is a tall order. Fortunately in many of the big cities signs are in English as well as in Japanese. This is not true of most institutions, so make sure you have good directions when you set out for schools, etc.
The economy has bounced back from the dreadful economic downturn of the nineties, a time when many TESOL jobs were slashed. Now days it's business as usual, and there are lots of different opportunities in schools, universities and in corporations. There is also plenty of opportunity with privates, and with conversation lounges. English is highly fashionable, and much of the market is seeking self-improvement, and better social status.
Are you ready to live and teach abroad? Click here and get started today: https://www.teflcourse.net/?cu=YTDESCRIPTION
Check our wide range of online TEFL & TESOL courses: https://www.teflonline.net/?cu=YTDESCRIPTION