TESOL Jobs in Venezuela | International TEFL and TESOL Training (ITTT)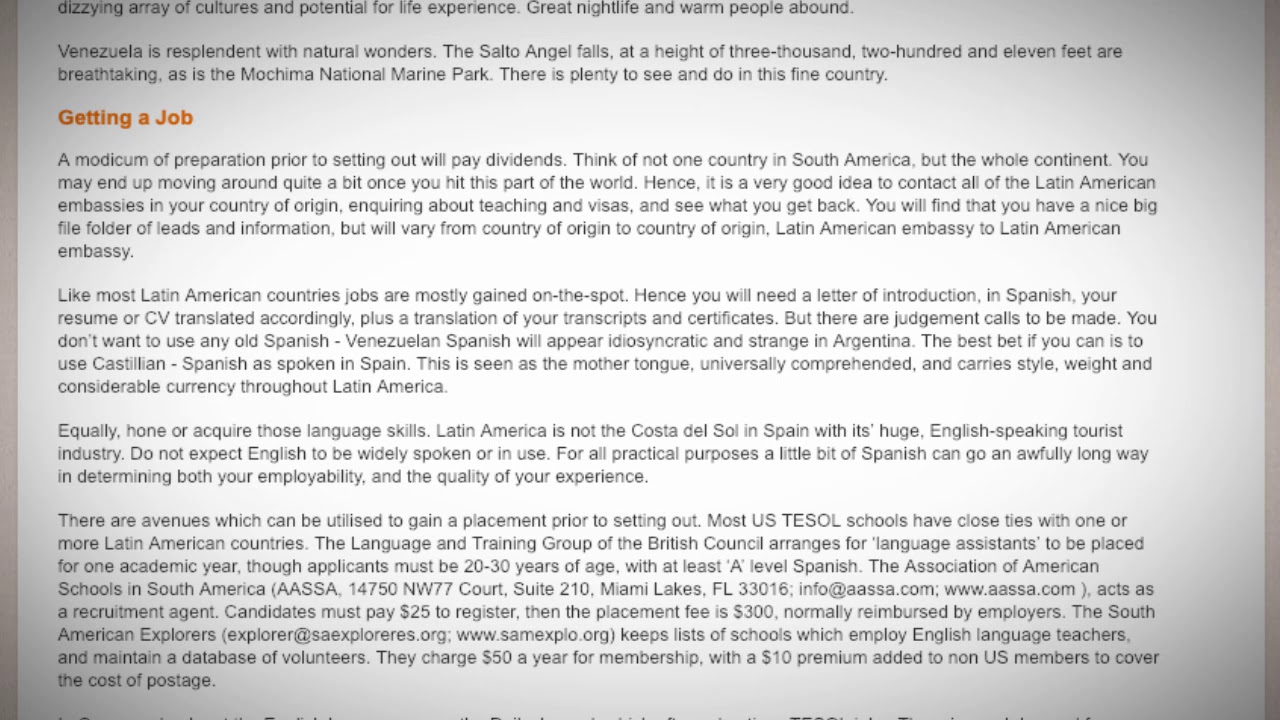 General Information
Venezuela is a country where the superlative is commonplace. It has a large landmass, the world's third longest river, the world's highest waterfall, and is home to the world's longest snake, not to mention jaguars, and armadillos. It has great mineral wealth, in the form of oil, and this has led to a thriving economy, much trade with and investment from the US, and, thus, a great demand for English.
Spanish is the official language; however, more than thirty native dialects survive. The population is twenty-seven millions, in a landmass of a shade over three-hundred and fifty thousand square miles. The country is ninety-six percent Roman Catholic.
Teaching
Quite unlike Europe, for those wishing to teach in a state or private school, there is not the requirement for a PGCE or an undergraduate degree. Nor is there a requirement for two years' teaching experience. You will, however, need a TESOL certificate.
With language institutes you can, in the main, expect to find yourself teaching those who work in business or tourism, less so those doing it just for fun. This 'needs-driven' market makes for sharp, well-motivated students. Don't expect to find people dozing at the back of the class. Commensurately, these people are paying for the privilege, and will expect a respectable, well-turned out, professional teacher. Another thing to be aware of is that because Latin languages are inflected, students will naturally have a much higher awareness of grammar than English-speakers. Be on your metal, and prepare well. You don't want to have your knowledge of tenses tested by your students, who learned them all by heart before they were ten!
Visas and Regulations
For those with a need of a hobby, a full-time occupation, and/or a passion for the Kafkaesque, then by all means make an essay at getting a work permit in a Venezuela. With this said, 'naturalisation' – i.e. the legal right to work and reside, which is strictly necessary in, say the EU or the US and Canada, is not paid much attention to. For all practical purposes, you do not really need a work permit to work, and… you will not get a work permit unless you have a job, and will not get that kind of job unless you have a work permit. Your application for this rare device may have to be made in your country of origin, and since language schools do not, as a rule, recruit abroad – they want to see you in the flesh before offering a contract – your chances of becoming legally 'naturalised' are mighty slim.
In general tourist visas are good for two months and can be renewed within Venezuela for up to six months. Most long-stay foreigners make brief trips to Curacao or Trinidad to renew their visas.
Work permits are available on if one's employer has obtained approval for the candidate from the Ministry of Internal Affairs (DEX), and sent all the necessary papers to the Venezuelan consulate in the candidate's country of origin. If you intend to go via this route then contact the Venezuelan consulate in your country of origin to get the latest information. The current fee for an application is around $80.
Perhaps the wise job-seeker, in the best of all possible Latin American worlds directs their attention to their visa requirements and entitlements. Americans, for example, benefit from the opportunity of getting a combined work/study permit. For everybody else matters will depend on what your country of origin has fixed up with Venezuela. You can find all about this from your local Venezuelan embassy. Think about also what you have to do to renew your visa. All the way back home, or does a cross-border trip do nicely? How many times can you renew your tourist visa?
Popular Destinations
Delineated by verdant, forested hills Caracas, the capital, is part vertigo-inspiring skyscrapers, and part shantytown slums. It presents a dizzying array of cultures and potential for life experience. Great nightlife and warm people abound.
Venezuela is resplendent with natural wonders. The Salto Angel falls, at a height of three-thousand, two-hundred and eleven feet are breathtaking, as is the Mochima National Marine Park. There is plenty to see and do in this fine country.
Are you ready to live and teach abroad? Click here and get started today: https://www.teflcourse.net/?cu=YTDESCRIPTION
Check our wide range of online TEFL & TESOL courses: https://www.teflonline.net/?cu=YTDESCRIPTION