The TEFL Budget Planner: How much money do I need to teach English abroad | ITTT TEFL BLOG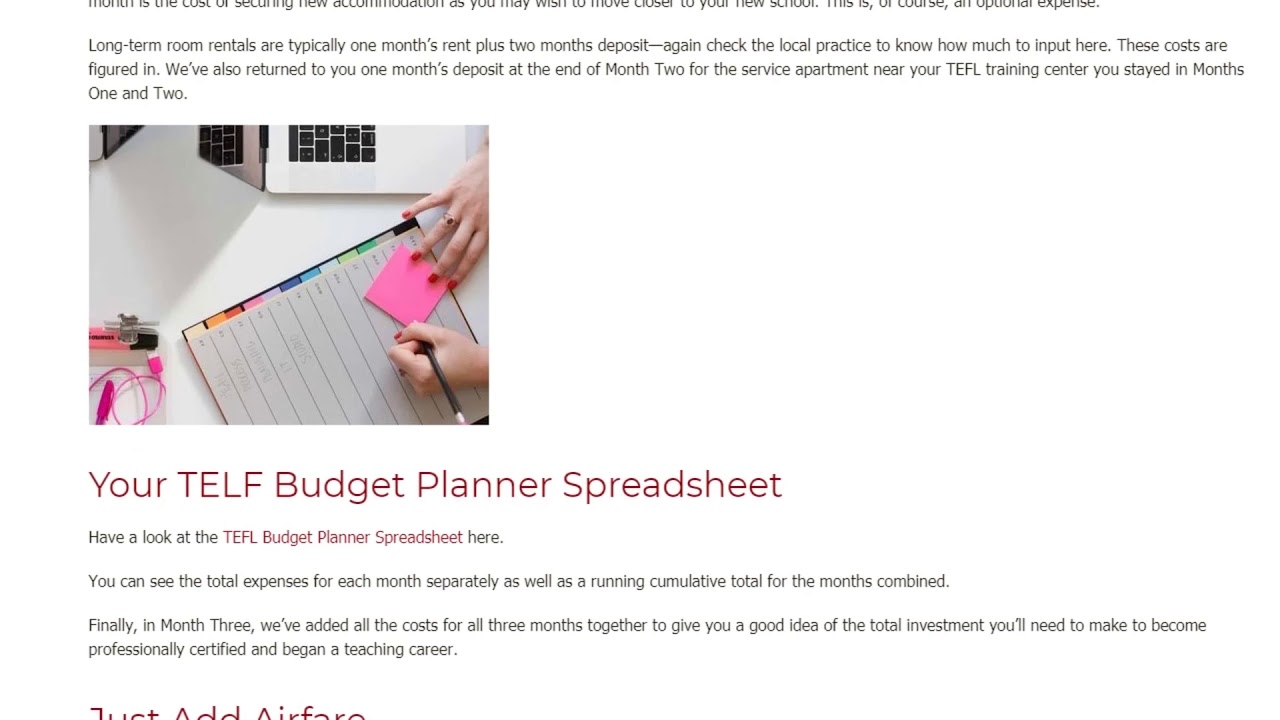 The TEFL Budget Planner is a tool to estimate your total costs to become TEFL certified and then begin working as a teacher.
Its spread out over three months as that's a conservative plan to complete your one-month in-class TEFL course, interview and secure a position, begin teaching and final get your first paycheck at the end of your initial month.
As most all schools pay at the end of the month, we're assuming—conservatively again—that it's at the end of the third month when you will start to receive income. Some may receive a partial paycheck in the second month, but that depends on the actual start date and the policy of your new employer.
So to be safe, let's assume you'll need to support yourself from your savings for approximately three months from arriving to your TEFL course to finally getting paid.
Expenses for accommodation, transportation, and food are based on real costs, but it's important to note that these will obviously vary from county to county. Your food costs, for example, will be considerably different if you do you TEFL in Thailand as opposed to studying in France.
If you not familiar with the local food, it may be best to choose a middle road approach…not too Spartan a lifestyle and not too luxurious. You can, of course, adjust any of these cost inputs based upon your personal preferences and budget considerations.
Read more here: https://www.teflcourse.net/blog/setting-up-an-english-course-in-vietnam-a-graduates-story-ittt-tefl-blog/?cu=YTDESCRIPTION
Are you ready to live and teach abroad? Click here and get started today: https://www.teflcourse.net/?cu=YTDESCRIPTION
Check our wide range of online TEFL & TESOL courses: https://www.teflonline.net/?cu=YTDESCRIPTION