Welcome to Our TEFL / TESOL School in Rome, Italy | Teach & Live abroad!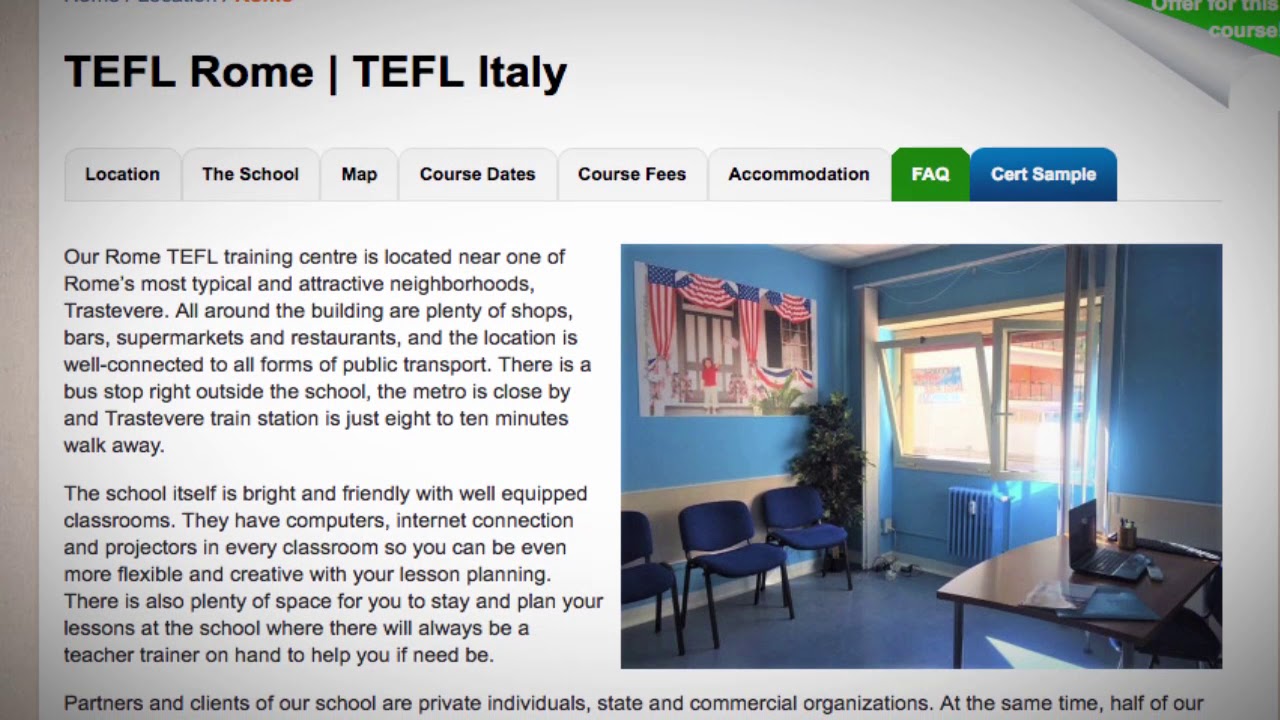 Our Rome TEFL training centre is located near one of Rome's most typical and attractive neighborhoods, Trastevere. All around the building are plenty of shops, bars, supermarkets and restaurants, and the location is well-connected to all forms of public transport. There is a bus stop right outside the school, the metro is close by and Trastevere train station is just eight to ten minutes walk away.
The school itself is bright and friendly with well equipped classrooms. They have computers, internet connection and projectors in every classroom so you can be even more flexible and creative with your lesson planning. There is also plenty of space for you to stay and plan your lessons at the school where there will always be a teacher trainer on hand to help you if need be.
Partners and clients of our school are private individuals, state and commercial organizations. At the same time, half of our students are children and teenagers aged between five and fourteen years.
Not only do we offer TESOL certificate courses to train the next generation of English teachers but we also offer the following services:
Translation services in a variety of languages
We are an official Cambridge Exam Preparation Centre
Organize Italian language and culture courses
Our teacher trainers are highly qualified with plenty of experience in diverse countries, so we can pass on our cultural experiences as well as our teaching knowledge and expertise.
We normally begin at 10:30-11:00 and set you free as early as 7pm unless you have an experienced teacher observation. So no particularly early starts for us, so you can be on top form for your training. Furthermore, we have one of the best coffee shops in Rome right next to the school!
Find out more about taking a TEFL course in Rome here: https://www.teflcourse.net/tefl-courses-locations/italy/rome/?cu=YTDESCRIPTION
Are you ready to live and teach abroad? Click here and get started today: https://www.teflcourse.net/?cu=YTDESCRIPTION