Welcome to Our TESOL School in Hong Kong | Teach & Live abroad!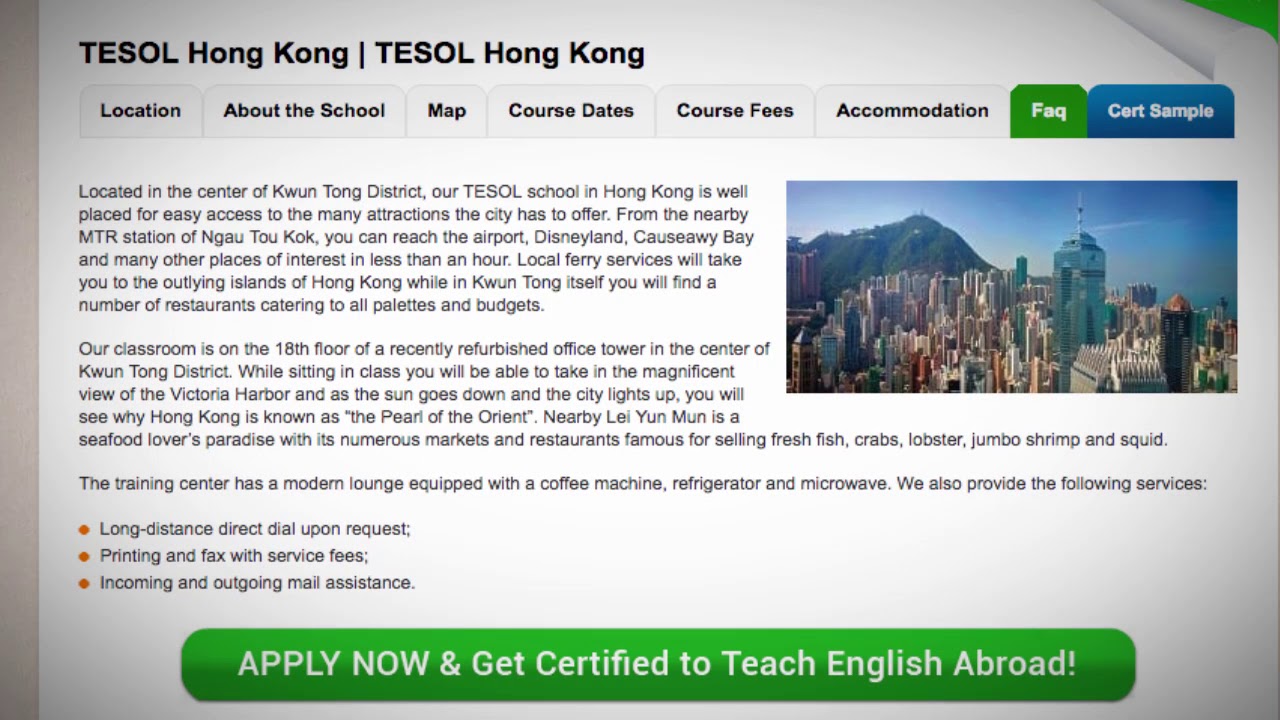 Located in the center of Kwun Tong District, our TESOL school in Hong Kong is well placed for easy access to the many attractions the city has to offer. From the nearby MTR station of Ngau Tou Kok, you can reach the airport, Disneyland, Causeawy Bay and many other places of interest in less than an hour. Local ferry services will take you to the outlying islands of Hong Kong while in Kwun Tong itself you will find a number of restaurants catering to all palettes and budgets.
Our classroom is on the 18th floor of a recently refurbished office tower in the center of Kwun Tong District. While sitting in class you will be able to take in the magnificent view of the Victoria Harbor and as the sun goes down and the city lights up, you will see why Hong Kong is known as "the Pearl of the Orient". Nearby Lei Yun Mun is a seafood lover's paradise with its numerous markets and restaurants famous for selling fresh fish, crabs, lobster, jumbo shrimp and squid.
The training center has a modern lounge equipped with a coffee machine, refrigerator and microwave. We also provide the following services:
Long-distance direct dial upon request;
Printing and fax with service fees;
Incoming and outgoing mail assistance.
Find out more about taking a TEFL course in Hong Kong here: https://www.tesolcourse.com/tesol/hong-kong-hong-kong/?cu=YTDESCRIPTION
Are you ready to live and teach abroad? Click here and get started today: https://www.teflcourse.net/?cu=YTDESCRIPTION
Check our wide range of online TEFL & TESOL courses: https://www.teflonline.net/?cu=YTDESCRIPTION