Why Choose ITTT? | No Hidden Costs in Your TESOL Course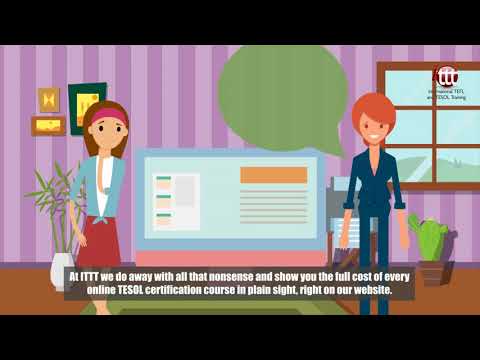 Nobody likes small print as it can catch you unawares and cost you additional money that you had not bargained for. At ITTT we do away with all that nonsense and show you the full cost of every online TESOL certification course in plain sight, right on our website. Whichever online course you choose, you can rest assured that the advertised course fee is all you will have to pay as we have no hidden costs to worry about. The course fee advertised will include everything you need to complete your training and get you ready to start teaching English wherever you choose.
The advertised fee for our online TESOL courses includes all the written materials and video access that is relevant to your course, as well as the high-quality certificate that you receive once you have completed your training. We even cover the cost of posting your certificate to you wherever you are in the world. The one and only additional cost is if you choose to have your certificate sent by express delivery which has a small fixed fee to any location. Other than this optional extra, which is unnecessary for most graduates, you will have nothing else to worry about once the initial course fee is taken care of.
Are you ready to live and teach abroad? Click here and get started today: https://www.teflcourse.net/?cu=YTDESCRIPTION
What is TEFL Certification? Where is it valid?
https://www.teflcourse.net/tefl-certification/?cu=YTDESCRIPTION
Check out our wide range of TEFL Courses:
https://www.teflcourse.net/online-tefl-courses/?cu=YTDESCRIPTION
Teach English online from anywhere you want!
https://www.teflcourse.net/online-tefl-courses/170-hr-tefl-certificate-with-tutor/?cu=YTDESCRIPTION