ITTT FAQs – Can I make money as a private tutor while teaching English abroad?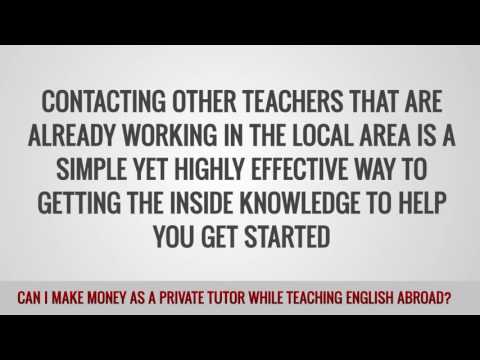 Teaching English as a private tutor is a very common practice for many TEFL/TESOL teachers around the world. For many it is a great way to supplement their income from working at a language school. For others it can become a full-time job once they have gained enough clients.
In certain situations, working as a private tutor is the main way that teachers make a living. In some large European cities, where the demand for English language instruction is high, you will find large numbers of American teachers working as private tutors.
Whether it is your main source of income or a means of topping up your salary, working as a private English tutor can be a great option for many TEFL/TESOL certified teachers.
The most important step to take is to become TEFL/TESOL certified before you start teaching. Completing an internationally accredited TEFL/TESOL certification course will not only teach you the skills required to be a successful teacher but will also provide you with a qualification that will show clients you are a serious teaching professional.
Methods for attracting clients include making contact with other teachers in your local area to help find out how to get going. Advertise your services by posting fliers to notice boards in universities, coffee shops and other places often frequented by students. Having a few business cards printed is also a good idea.
Offering incentives is also a good way to attract clients. Free introductory lessons and discounts for multiple lessons purchased in advance are two common incentives teachers offer. Giving free lessons or discounts to students who refer others to you is also a good way of increasing your client list.