ITTT FAQs – How much can I earn teaching English in Taiwan?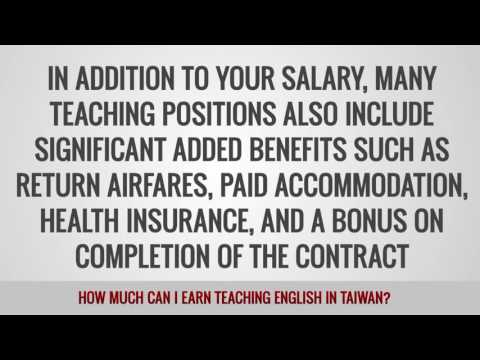 East Asia is one of the most popular regions in the world for teaching English as a foreign language, with countries such as China, South Korea and Japan attracting thousands of teachers every year. Taiwan is an often overlooked destination due to its small size in comparison to its neighbors. However the country has a strong demand for English language teaching and teachers can expect to earn $2,000 even without previous experience.
With a highly developed infrastructure, stable economy, plenty of job offers, high salaries and a relatively low cost of living, Taiwan is a TEFL/TESOL destination well worth considering. TEFL qualified native English speakers should have no problems finding work across the country, however most opportunities are to be found in the big cities such as Taipei, Kaohsiung, Taichung and Tainan.
For many first time teachers in Taiwan the network of privately owned 'cram schools' known as Bushibans will be a good entry point to teaching English in Taiwan. There are hundreds of such schools throughout the country keen to hire native speakers at about $20 per hour. Typical working hours are four teaching hours per day five days a week. There are also a large number of kindergartens around the country that offer similar pay and hours.
For teachers with experience, foreign run bushibans offer better pay, usually $30 to $40 per hour plus other benefits. The competition for jobs at these schools can be strong. As the pay is greater as are the expectations and an understanding of Mandarin may be required.
Other opportunities exist in the public schools system. The majority of these positions are in high schools and the salaries tend to be around $1,900 to $2,200 per month. Working hours tend to be longer than in private academies as extensive lesson planning may be necessary and teachers are expected to do extra duties. A typical working day can be from 8.30 a.m. to 5.30 p.m.