TEFL / TESOL Course in Buenos Aires, Argentina | Teach & Live abroad!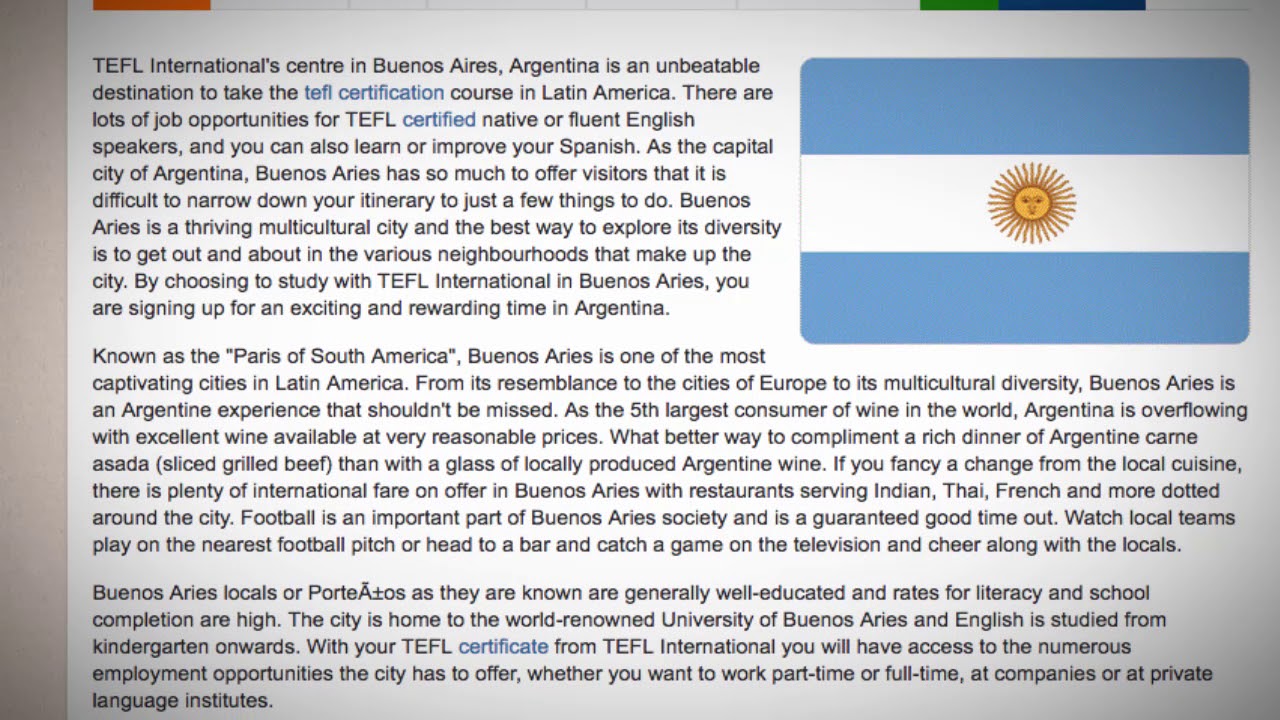 TEFL International's centre in Buenos Aires, Argentina is an unbeatable destination to take the tefl certification course in Latin America. There are lots of job opportunities for TEFL certified native or fluent English speakers, and you can also learn or improve your Spanish. As the capital city of Argentina, Buenos Aries has so much to offer visitors that it is difficult to narrow down your itinerary to just a few things to do. Buenos Aries is a thriving multicultural city and the best way to explore its diversity is to get out and about in the various neighbourhoods that make up the city. By choosing to study with TEFL International in Buenos Aries, you are signing up for an exciting and rewarding time in Argentina.
Known as the "Paris of South America", Buenos Aries is one of the most captivating cities in Latin America. From its resemblance to the cities of Europe to its multicultural diversity, Buenos Aries is an Argentine experience that shouldn't be missed. As the 5th largest consumer of wine in the world, Argentina is overflowing with excellent wine available at very reasonable prices. What better way to compliment a rich dinner of Argentine carne asada (sliced grilled beef) than with a glass of locally produced Argentine wine. If you fancy a change from the local cuisine, there is plenty of international fare on offer in Buenos Aries with restaurants serving Indian, Thai, French and more dotted around the city. Football is an important part of Buenos Aries society and is a guaranteed good time out. Watch local teams play on the nearest football pitch or head to a bar and catch a game on the television and cheer along with the locals.
Buenos Aries locals or Porteños as they are known are generally well-educated and rates for literacy and school completion are high. The city is home to the world-renowned University of Buenos Aries and English is studied from kindergarten onwards. With your TEFL certificate from TEFL International you will have access to the numerous employment opportunities the city has to offer, whether you want to work part-time or full-time, at companies or at private language institutes.
Find out more about taking a TEFL course in Argentina here: https://www.teflcourse.net/tefl-courses-locations/argentina/buenos-aires/?cu=YTDESCRIPTION
Are you ready to live and teach abroad? Click here and get started today: https://www.teflcourse.net/?cu=YTDESCRIPTION