TEFL / TESOL Course in Cape Town, South Africa | Teach & Live abroad!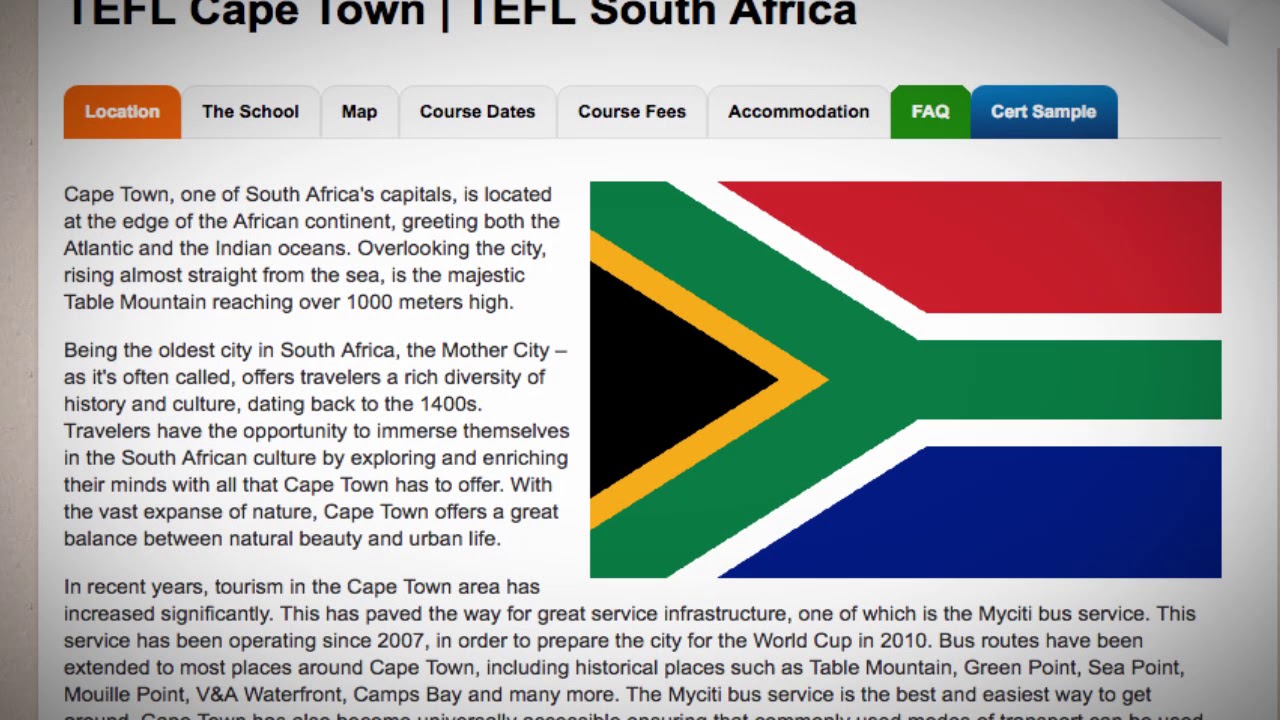 Cape Town, one of South Africa's capitals, is located at the edge of the African continent, greeting both the Atlantic and the Indian oceans. Overlooking the city, rising almost straight from the sea, is the majestic Table Mountain reaching over 1000 meters high.
Being the oldest city in South Africa, the Mother City – as it's often called, offers travelers a rich diversity of history and culture, dating back to the 1400s. Travelers have the opportunity to immerse themselves in the South African culture by exploring and enriching their minds with all that Cape Town has to offer. With the vast expanse of nature, Cape Town offers a great balance between natural beauty and urban life.
In recent years, tourism in the Cape Town area has increased significantly. This has paved the way for great service infrastructure, one of which is the Myciti bus service. This service has been operating since 2007, in order to prepare the city for the World Cup in 2010. Bus routes have been extended to most places around Cape Town, including historical places such as Table Mountain, Green Point, Sea Point, Mouille Point, V&A Waterfront, Camps Bay and many more. The Myciti bus service is the best and easiest way to get around. Cape Town has also become universally accessible ensuring that commonly used modes of transport can be used by those with special needs.
Cape Town has all sorts of accommodation, from 5-star hotels, luxurious guesthouses, backpacker lodges for the adventurous, camping sites and many welcoming places to have a bite to eat.
The Mother City is a destination of endless fun. Upon nightfall Cape Town lights up with a buzz of good music, theatre, art, dance, cocktails, laughter and people generally having a good time. There is so much to do and see in Cape Town, from having fun to lying back and being pampered from head to toe.
Due to the increase in non-native speakers, there has been a tremendous growth in English language institutions. Travelers can prepare for exams, university, volunteer or simply learn English while travelling. It's all about the location and Cape Town has it all. The city is the perfect place for your TEFL course.
Find out more about taking a TEFL course in South Africa here: https://www.teflcourse.net/tefl-courses-locations/south-africa/cape-town/?cu=YTDESCRIPTION
Are you ready to live and teach abroad? Click here and get started today: https://www.teflcourse.net/?cu=YTDESCRIPTION