TEFL / TESOL Course in Columbus, USA | Teach & Live abroad!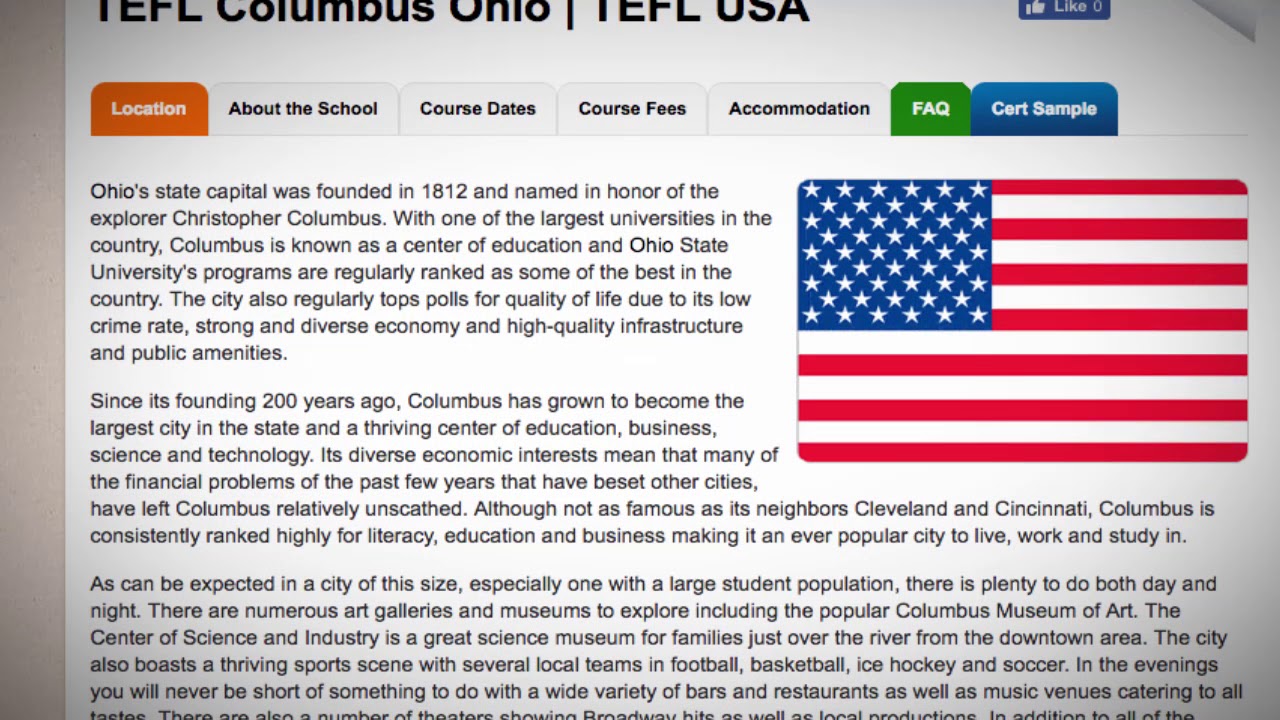 Ohio's state capital was founded in 1812 and named in honor of the explorer Christopher Columbus. With one of the largest universities in the country, Columbus is known as a center of education and Ohio State University's programs are regularly ranked as some of the best in the country. The city also regularly tops polls for quality of life due to its low crime rate, strong and diverse economy and high-quality infrastructure and public amenities.
Since its founding 200 years ago, Columbus has grown to become the largest city in the state and a thriving center of education, business, science and technology. Its diverse economic interests mean that many of the financial problems of the past few years that have beset other cities, have left Columbus relatively unscathed. Although not as famous as its neighbors Cleveland and Cincinnati, Columbus is consistently ranked highly for literacy, education and business making it an ever popular city to live, work and study in.
As can be expected in a city of this size, especially one with a large student population, there is plenty to do both day and night. There are numerous art galleries and museums to explore including the popular Columbus Museum of Art. The Center of Science and Industry is a great science museum for families just over the river from the downtown area. The city also boasts a thriving sports scene with several local teams in football, basketball, ice hockey and soccer. In the evenings you will never be short of something to do with a wide variety of bars and restaurants as well as music venues catering to all tastes. There are also a number of theaters showing Broadway hits as well as local productions. In addition to all of the above, Columbus plays host to a large number of fairs, parades and festivals with the Ohio State Fair, one of the largest fairs in the country, taking place over eleven days in the summer.
The fact that Columbus consistently ranks highly in polls for quality of life and career opportunities as well as its large number of attractions, means that anyone looking to get qualified as an English teacher would be hard pressed to find anywhere better to take a TEFL/TESOL course. Our well-qualified and dedicated staff combined with the center's modern facilities, make for a fantastic course experience and the ideal start to a budding career as an English teacher.
Find out more about taking a TEFL course in Columbus here: https://www.teflcourse.net/tefl-courses-combined/usa/columbus-ohio/?cu=YTDESCRIPTION
Are you ready to live and teach abroad? Click here and get started today: https://www.teflcourse.net/?cu=YTDESCRIPTION