TESOL Course in Alexandria, Egypt | Teach & Live abroad!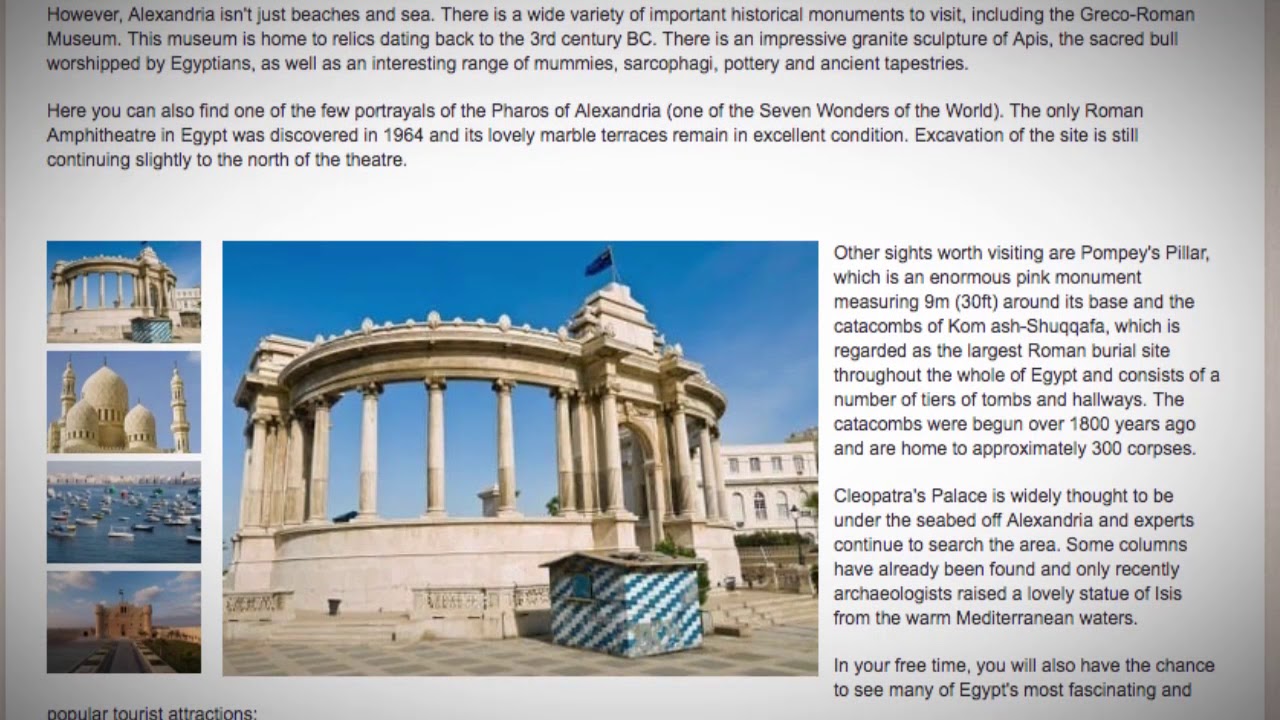 Alexandria is a great place to take your TEFL course in Egypt. You will learn how to teach English and yet at the same time you will have the opportunity to experience and learn about the history and culture of an ancient civilization as well as enjoying the fantastic water sports and the exciting free excursions that we offer. As there are many teaching vacancies in Egypt and throughout the region, this is a good place to take your TESOL course and start your career in teaching english abroad.
Alexandria is a wonderful city on the Mediterranean that truly contrasts the ancient and modern side by side. You will see Egyptian, Greek, Roman, Coptic, Islamic and Arab history and civilizations on one hand and modern building and shopping facilities on the other. Yet it all blends together harmoniously as though that was the way it was meant to be. Alexandria extends approximately 20 miles along the coast of the Mediterranean Sea.
Alexandria was established by the great ancient ruler Alexander the Great, after whom the city derives its name, when he decided to select this small fishing village as his capital. Alexandria was once one of the world's most famous cities and remained capital of Egypt for nearly 1000 years. It is now home to a population ranging somewhere between 3.5 to 5 million inhabitants and as such is the second-largest city in Egypt, after Cairo. Alexandria is located about 2 hours from Cairo and its famous pyramids.
Modern day Alexandria is considered as a summer beach resort and many tourists visit the area to enjoy the sun and sea here. Beaches become rather busy and it is not unusual to see rows of umbrellas along the beachfront. The city itself is also busier than usual at this time of the year. The public beaches can get rather crowded in summer time but there are also private beaches (a small fee is payable) which remain relatively quiet and peaceful. The general area is also home to world famous water sports.
However, Alexandria isn't just beaches and sea. There is a wide variety of important historical monuments to visit, including the Greco-Roman Museum. This museum is home to relics dating back to the 3rd century BC. There is an impressive granite sculpture of Apis, the sacred bull worshipped by Egyptians, as well as an interesting range of mummies, sarcophagi, pottery and ancient tapestries.
Here you can also find one of the few portrayals of the Pharos of Alexandria (one of the Seven Wonders of the World). The only Roman Amphitheatre in Egypt was discovered in 1964 and its lovely marble terraces remain in excellent condition. Excavation of the site is still continuing slightly to the north of the theatre.
Other sights worth visiting are Pompey's Pillar, which is an enormous pink monument measuring 9m (30ft) around its base and the catacombs of Kom ash-Shuqqafa, which is regarded as the largest Roman burial site throughout the whole of Egypt and consists of a number of tiers of tombs and hallways. The catacombs were begun over 1800 years ago and are home to approximately 300 corpses.
Cleopatra's Palace is widely thought to be under the seabed off Alexandria and experts continue to search the area. Some columns have already been found and only recently archaeologists raised a lovely statue of Isis from the warm Mediterranean waters.
In your free time, you will also have the chance to see many of Egypt's most fascinating and popular tourist attractions:
In fact we offer a free trip to Cairo where you can see the world famous Pyramids, the Sphinx, all of the Pharaoh monuments in the Egyptian museum.
Find out more about taking a TEFL course in Alexandria here: https://www.tesolcourse.com/tesol/egypt-alexandria/?cu=YTDESCRIPTION
Are you ready to live and teach abroad? Click here and get started today: https://www.teflcourse.net/?cu=YTDESCRIPTION
Check our wide range of online TEFL & TESOL courses: https://www.teflonline.net/?cu=YTDESCRIPTION