TESOL Course in Beijing, China | Teach & Live abroad!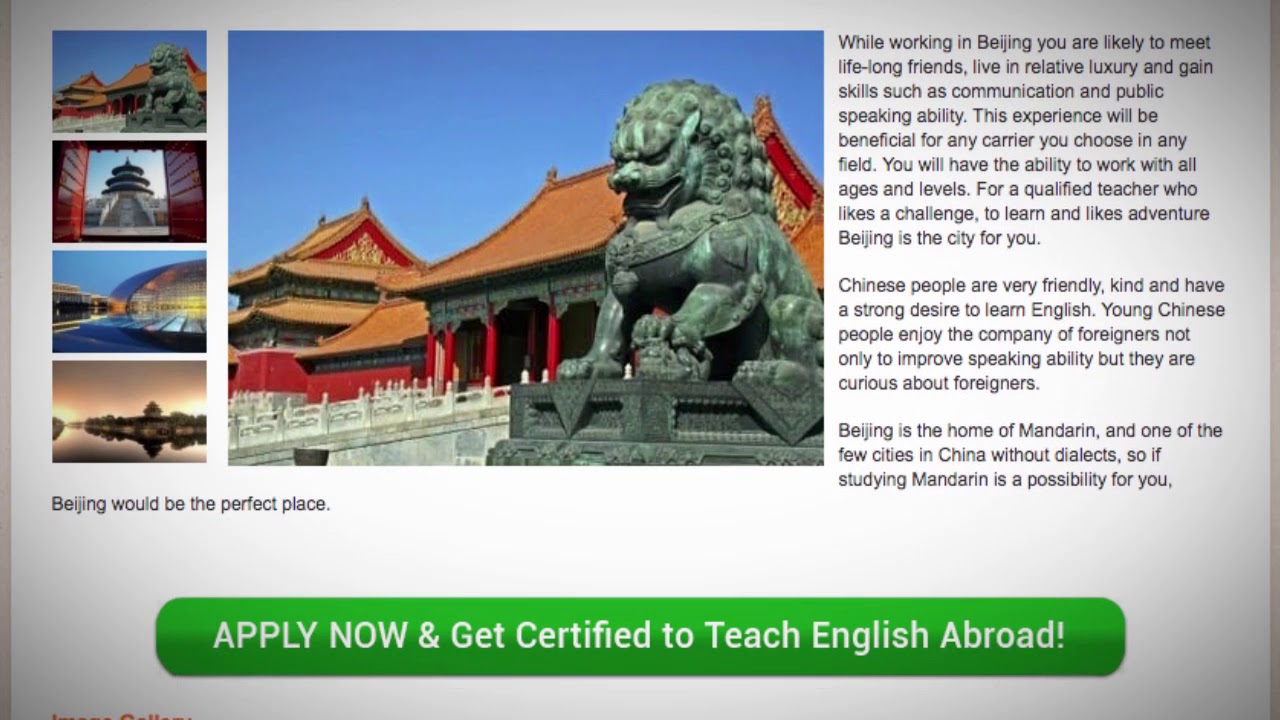 Beijing, the capital of the People's Republic of China, is known for its friendly people, good food, long history and is without doubt also the cultural capital of China. The training centre is in the Chao Yang District, just steps away from Tian'anmen Square. The amazing city of Beijing provides course participants with the perfect experience and atmosphere for studying for a TESOL certificate and at the same time exploring a fast-developing and exciting city.
Beijing is one of the few cities that has remained culturally intact around China and kept its cultural relics. From the Great Wall, Forbidden City and Summer Palace to the small hutongs around the ancient Qianmen area, Beijing is overflowing with culture and history. The city offers some of the most dynamic culture, richest history, and most amazing food in the world.
Beijing, the host of the 2008 Olympic Games, is the center of politics, culture, and international exchange, as well as a larges metropolis of industry, finance and trade. Living in Beijing offers an amazing lifestyle for a foreigner teaching English. It's cheap and has everything you want. The nightlife in Beijing is one of the best in Asia.
There is something for everyone ranging from history, amusement parks, shopping, bars, nightlife, restaurants and much more.
While working in Beijing you are likely to meet life-long friends, live in relative luxury and gain skills such as communication and public speaking ability. This experience will be beneficial for any carrier you choose in any field. You will have the ability to work with all ages and levels. For a qualified teacher who likes a challenge, to learn and likes adventure Beijing is the city for you.
Chinese people are very friendly, kind and have a strong desire to learn English. Young Chinese people enjoy the company of foreigners not only to improve speaking ability but they are curious about foreigners.
Beijing is the home of Mandarin, and one of the few cities in China without dialects, so if studying Mandarin is a possibility for you, Beijing would be the perfect place.
Find out more about taking a TEFL course in Beijing here: https://www.tesolcourse.com/tesol/china-beijing/?cu=YTDESCRIPTION
Are you ready to live and teach abroad? Click here and get started today: https://www.teflcourse.net/?cu=YTDESCRIPTION
Check our wide range of online TEFL & TESOL courses: https://www.teflonline.net/?cu=YTDESCRIPTION