TESOL Course in Brittany, France | Teach & Live abroad!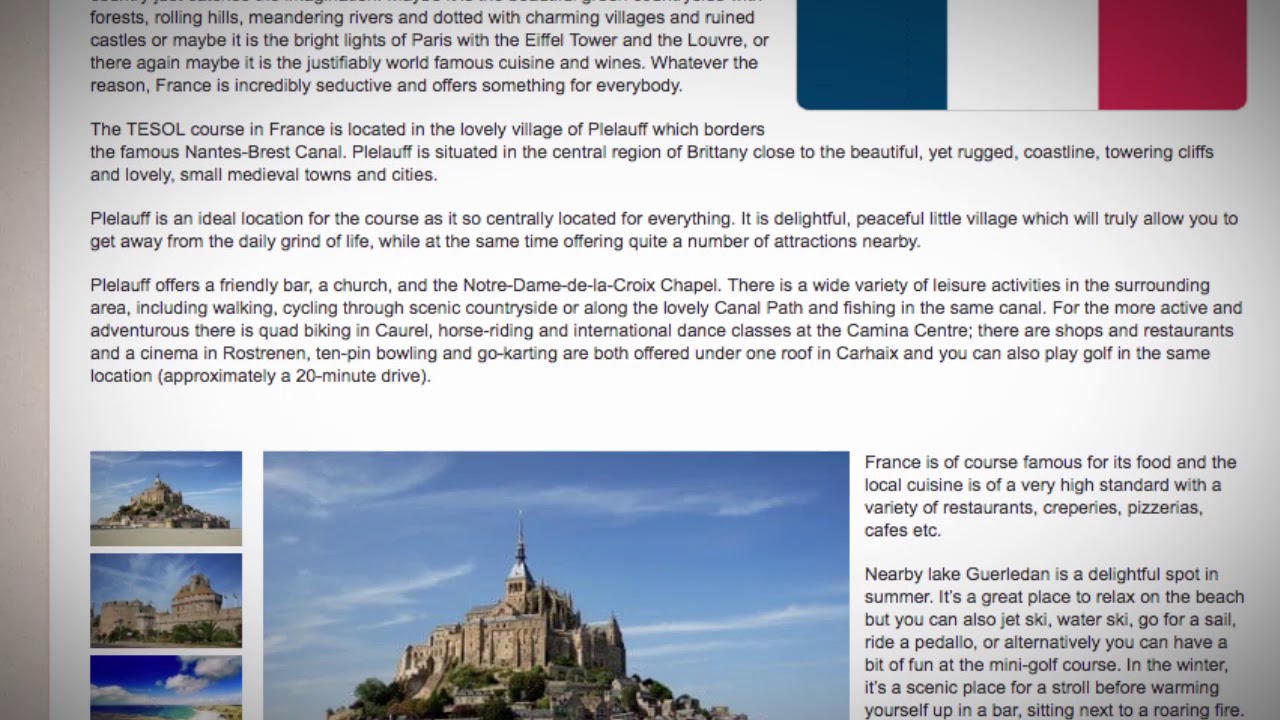 Our TESOL course in France offers a unique insight and experience of 'real' France. France is famous for its history, culture, cuisine and romance and these factors combine to make this one of our most popular locations for taking a TESOL course. If you wish to teach English in France, or anywhere else for that matter, our course in France is the ideal place to start your teaching career.
France seems to hold an appeal for visitors of all nationalities. Something about the country just catches the imagination. Maybe it is the beautiful green countryside with forests, rolling hills, meandering rivers and dotted with charming villages and ruined castles or maybe it is the bright lights of Paris with the Eiffel Tower and the Louvre, or there again maybe it is the justifiably world famous cuisine and wines. Whatever the reason, France is incredibly seductive and offers something for everybody.
The TESOL course in France is located in the lovely village of Plelauff which borders the famous Nantes-Brest Canal. Plelauff is situated in the central region of Brittany close to the beautiful, yet rugged, coastline, towering cliffs and lovely, small medieval towns and cities.
Plelauff is an ideal location for the course as it so centrally located for everything. It is delightful, peaceful little village which will truly allow you to get away from the daily grind of life, while at the same time offering quite a number of attractions nearby.
Plelauff offers a friendly bar, a church, and the Notre-Dame-de-la-Croix Chapel. There is a wide variety of leisure activities in the surrounding area, including walking, cycling through scenic countryside or along the lovely Canal Path and fishing in the same canal. For the more active and adventurous there is quad biking in Caurel, horse-riding and international dance classes at the Camina Centre; there are shops and restaurants and a cinema in Rostrenen, ten-pin bowling and go-karting are both offered under one roof in Carhaix and you can also play golf in the same location (approximately a 20-minute drive).
France is of course famous for its food and the local cuisine is of a very high standard with a variety of restaurants, creperies, pizzerias, cafes etc.
Nearby lake Guerledan is a delightful spot in summer. It's a great place to relax on the beach but you can also jet ski, water ski, go for a sail, ride a pedallo, or alternatively you can have a bit of fun at the mini-golf course. In the winter, it's a scenic place for a stroll before warming yourself up in a bar, sitting next to a roaring fire.
Brittany is famous for its breathtaking scenery and is justifiably regarded as one of the most beautiful regions of France with a rugged coastline containing thousands of little bays and inlets. It's the ideal location to soak up the French sunshine, sample the fine wines and experience the delicious French cuisine.
All in all the perfect place for taking a TESOL course in France.
Find out more about taking a TEFL course in Brittany here: https://www.tesolcourse.com/tesol/france-brittany/?cu=YTDESCRIPTION
Are you ready to live and teach abroad? Click here and get started today: https://www.teflcourse.net/?cu=YTDESCRIPTION
Check our wide range of online TEFL & TESOL courses: https://www.teflonline.net/?cu=YTDESCRIPTION