TESOL Course in Ban Phe, Japan | Teach & Live abroad!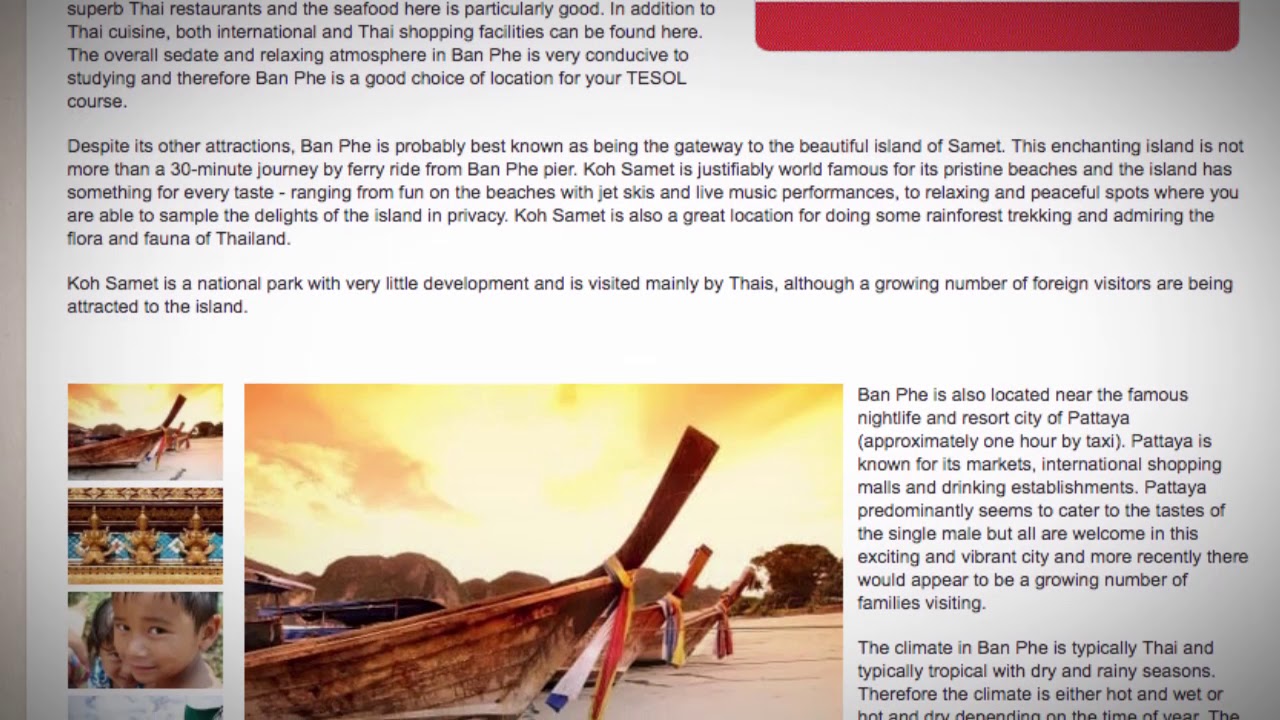 Our TESOL course in Ban Phe, Thailand is validated by the Thai Ministry of Education as is therefore recognized for teaching English in Thailand and also for teaching English worldwide. All of our TESOL courses meet the highest standards and our highly qualified and friendly staff will make sure you have a fantastic experience both during the TESOL program and in your free time.
Ban Phe is a quiet and typically Thai fishing village that is situated about 2 hours southeast of Thailand's capital city, Bangkok. Ban Phe is ideally located as it fronts one of the many lovely beaches in the Gulf of Thailand. This friendly and charming seaside town is very Thai in style and thus provides an interesting glimpse into typical Thai lifestyle and culture. Ban Phe is home to a number of superb Thai restaurants and the seafood here is particularly good. In addition to Thai cuisine, both international and Thai shopping facilities can be found here. The overall sedate and relaxing atmosphere in Ban Phe is very conducive to studying and therefore Ban Phe is a good choice of location for your TESOL course.
Despite its other attractions, Ban Phe is probably best known as being the gateway to the beautiful island of Samet. This enchanting island is not more than a 30-minute journey by ferry ride from Ban Phe pier. Koh Samet is justifiably world famous for its pristine beaches and the island has something for every taste – ranging from fun on the beaches with jet skis and live music performances, to relaxing and peaceful spots where you are able to sample the delights of the island in privacy. Koh Samet is also a great location for doing some rainforest trekking and admiring the flora and fauna of Thailand.
Koh Samet is a national park with very little development and is visited mainly by Thais, although a growing number of foreign visitors are being attracted to the island.
Ban Phe is also located near the famous nightlife and resort city of Pattaya (approximately one hour by taxi). Pattaya is known for its markets, international shopping malls and drinking establishments. Pattaya predominantly seems to cater to the tastes of the single male but all are welcome in this exciting and vibrant city and more recently there would appear to be a growing number of families visiting.
The climate in Ban Phe is typically Thai and typically tropical with dry and rainy seasons. Therefore the climate is either hot and wet or hot and dry depending on the time of year. The temperature remains fairly constant during the year at around 27°C, which makes most days warm and pleasant. The sea breeze also helps to keep you cool and fresh.
As Ban Phe is situated within a short journey from Bangkok, this allows for weekend getaways if the more sedate and laid back lifestyle of Ban Phe isn't to your taste. Ban Phe offers you the opportunity to immerse yourself into the daily life of Thailand and its culture. As there is an abundance of TESOL positions throughout Thailand, Ban Phe is a quiet and relaxing location in which to take your TESOL course and embark upon a career in teaching English.
Find out more about taking a TEFL course in Ban Phe here: https://www.tesolcourse.com/tesol/thailand-banphe/?cu=YTDESCRIPTION
Are you ready to live and teach abroad? Click here and get started today: https://www.teflcourse.net/?cu=YTDESCRIPTION
Check our wide range of online TEFL & TESOL courses: https://www.teflonline.net/?cu=YTDESCRIPTION