TESOL Course in Chiang Mai, Thailand | Teach & Live abroad!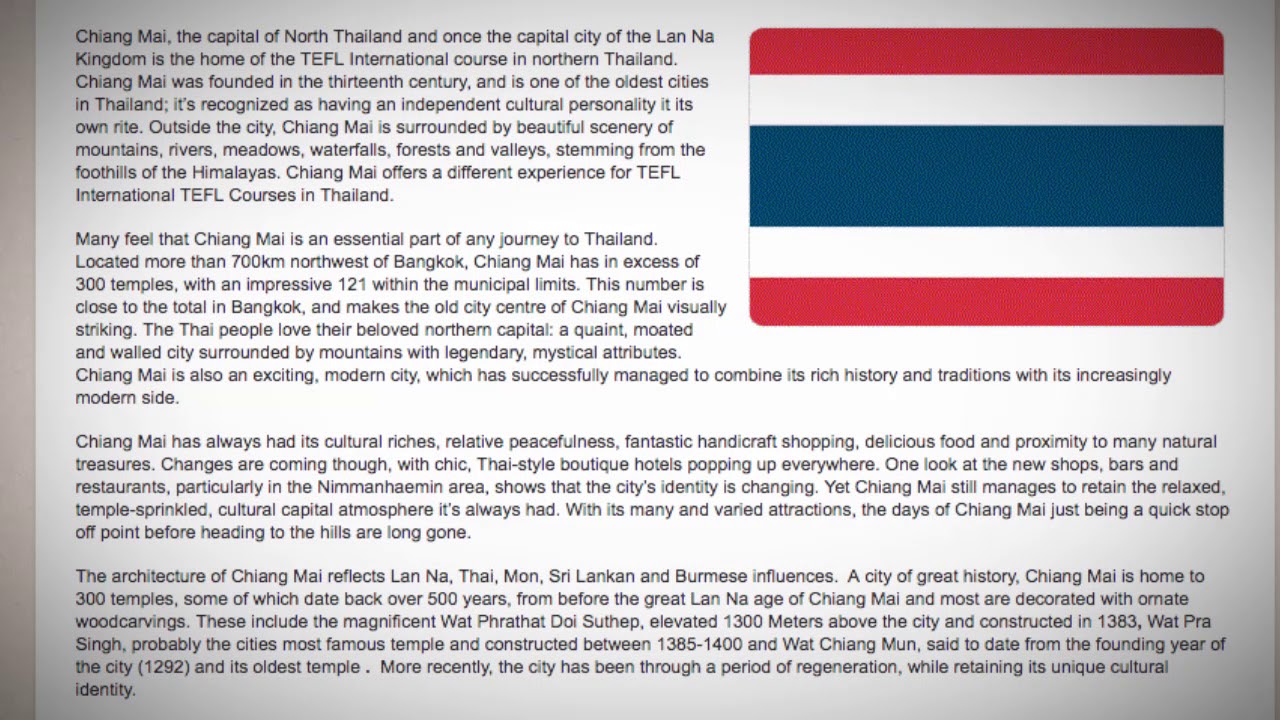 Chiang Mai, the capital of North Thailand and once the capital city of the Lan Na Kingdom is the home of the TEFL International course in northern Thailand. Chiang Mai was founded in the thirteenth century, and is one of the oldest cities in Thailand; it's recognized as having an independent cultural personality it its own rite. Outside the city, Chiang Mai is surrounded by beautiful scenery of mountains, rivers, meadows, waterfalls, forests and valleys, stemming from the foothills of the Himalayas. Chiang Mai offers a different experience for TEFL International TEFL Courses in Thailand.
Many feel that Chiang Mai is an essential part of any journey to Thailand. Located more than 700km northwest of Bangkok, Chiang Mai has in excess of 300 temples, with an impressive 121 within the municipal limits. This number is close to the total in Bangkok, and makes the old city centre of Chiang Mai visually striking. The Thai people love their beloved northern capital: a quaint, moated and walled city surrounded by mountains with legendary, mystical attributes.
Chiang Mai is also an exciting, modern city, which has successfully managed to combine its rich history and traditions with its increasingly modern side.
Chiang Mai has always had its cultural riches, relative peacefulness, fantastic handicraft shopping, delicious food and proximity to many natural treasures. Changes are coming though, with chic, Thai-style boutique hotels popping up everywhere. One look at the new shops, bars and restaurants, particularly in the Nimmanhaemin area, shows that the city's identity is changing. Yet Chiang Mai still manages to retain the relaxed, temple-sprinkled, cultural capital atmosphere it's always had. With its many and varied attractions, the days of Chiang Mai just being a quick stop off point before heading to the hills are long gone.
The architecture of Chiang Mai reflects Lan Na, Thai, Mon, Sri Lankan and Burmese influences. A city of great history, Chiang Mai is home to 300 temples, some of which date back over 500 years, from before the great Lan Na age of Chiang Mai and most are decorated with ornate woodcarvings. These include the magnificent Wat Phrathat Doi Suthep, elevated 1300 Meters above the city and constructed in 1383, Wat Pra Singh, probably the cities most famous temple and constructed between 1385-1400 and Wat Chiang Mun, said to date from the founding year of the city (1292) and its oldest temple . More recently, the city has been through a period of regeneration, while retaining its unique cultural identity.
The city itself covers an area of 200, 000 square meters and can be found 700 kilometers north of Bangkok. It is situated 300 meters above sea level, which accounts for its dry and cool climate.
However, Chiang Mai still retains a tropical climate experiencing monsoons, which arrive from India at the end of May (23 -32 ºC / 73 – 90 ºF) and remain until November (19-30ºC / 66-80. ºF) During this period, it often rains for a couple of hours in the afternoon. From November to May, cool air from China bring the dry season with milder weather and during this period temperatures range from (13-36ºC / 55-97ºF).
Why Chiang Mai
Chiang Mai has a striking mountain backdrop, over 300 temples and a quaint historical aura. It's also a modern, friendly, internationally – flavored city with much to offer the visitor
Food, accommodation and shopping are all top quality and cheap, and the nights are relatively cool.
Doi Suthep, topped by one of Thailand's holiest temple, rises behind the city, providing a dramatic backdrop and fine views of the city.
Find out more about taking a TEFL course in Chiang Mai here: https://www.tesolcourse.com/tesol/thailand-chiang-mai/?cu=YTDESCRIPTION
Are you ready to live and teach abroad? Click here and get started today: https://www.teflcourse.net/?cu=YTDESCRIPTION
Check our wide range of online TEFL & TESOL courses: https://www.teflonline.net/?cu=YTDESCRIPTION