TESOL Course in Loja, Ecuador | Teach & Live abroad!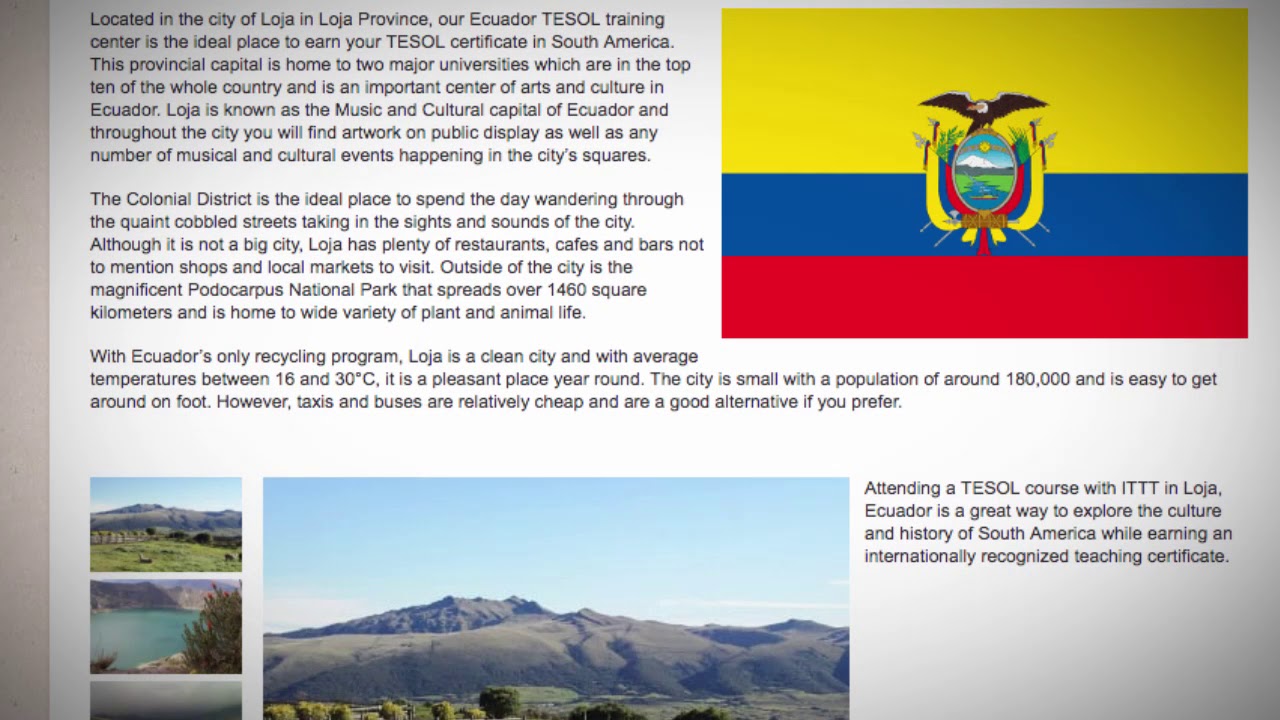 Located in the city of Loja in Loja Province, our Ecuador TESOL training center is the ideal place to earn your TESOL certificate in South America. This provincial capital is home to two major universities which are in the top ten of the whole country and is an important center of arts and culture in Ecuador. Loja is known as the Music and Cultural capital of Ecuador and throughout the city you will find artwork on public display as well as any number of musical and cultural events happening in the city's squares.
The Colonial District is the ideal place to spend the day wandering through the quaint cobbled streets taking in the sights and sounds of the city. Although it is not a big city, Loja has plenty of restaurants, cafes and bars not to mention shops and local markets to visit. Outside of the city is the magnificent Podocarpus National Park that spreads over 1460 square kilometers and is home to wide variety of plant and animal life.
With Ecuador's only recycling program, Loja is a clean city and with average temperatures between 16 and 30°C, it is a pleasant place year round. The city is small with a population of around 180,000 and is easy to get around on foot. However, taxis and buses are relatively cheap and are a good alternative if you prefer.
Attending a TESOL course with ITTT in Loja, Ecuador is a great way to explore the culture and history of South America while earning an internationally recognized teaching certificate.
Find out more about taking a TEFL course in Loja here: https://www.tesolcourse.com/tesol/ecuador-loja/?cu=YTDESCRIPTION
Are you ready to live and teach abroad? Click here and get started today: https://www.teflcourse.net/?cu=YTDESCRIPTION
Check our wide range of online TEFL & TESOL courses: https://www.teflonline.net/?cu=YTDESCRIPTION