TESOL JOBS Spain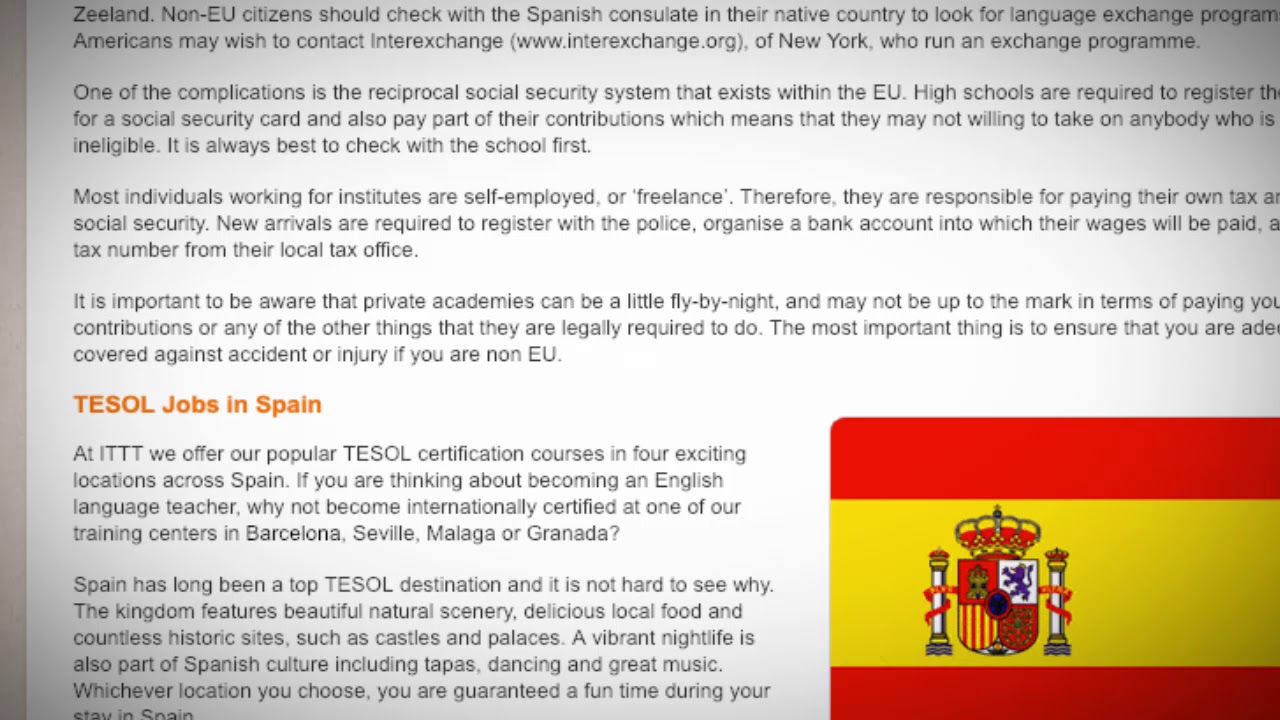 There is such a tremendous amount of marked regional diversity in Spain that one is almost dealing with a mini continent. Life on the costas – Spain's huge coastline – differs greatly from that in the big cities, which in turn differs from life in the thousands of picturesque rural villages, which is again different from the ski slopes of Andora or Granada. Dispirit locations and circumstances are united in a profound love of life, sometimes combined with a slight disdain for work. Spaniards work to live, they do not live to work. Hence it is very easy to get swept up in a seemingly constant round of fiestas and festivals, music and dancing – eating well and drinking well being all part of pursuing the good life in the best of all possible worlds. Despite the fact that practically nothing runs on time, few who have lived in Spain for a spell would disagree with the idea that, in terms of quality of life, Spain is a world leader.
It's a big country with climate to suit all tastes. Very hot in the south with temperatures getting into the 40s, cool in the north, and snowbound in the Pyrenees. The official language is Spanish, though Catalan, Basque and Gallego are the official languages in these autonmias. English is not widely spoken outside of the principal tourist areas on the costas. The population is 42 million, and whilst there is plenty of hustle and bustle in the big cities the rural areas leave one with the impression that nobody has been there for years.
Prospects for English teachers have long been good in Spain, with language schools catering to the needs of high school and university students seeking to shore up the tuition they get at their main place of study; However, Spain underwent a huge period of economic growth in the late 20th century, and continues to be Western Europe's fastest-growing economy. This has meant that more and more employers are requiring English skills from prospective employees, and business-specific academies have sprang up to meet the needs of multi-nationals seeking to improve the language skills of their employees. Despite the plenitude of opportunities it should be borne in mind that pay in the expensive big cities is not dissimilar to that in the rural areas where it is much cheaper to live.
Are you ready to live and teach abroad? Click here and get started today: https://www.teflcourse.net/?cu=YTDESCRIPTION
Check our wide range of online TEFL & TESOL courses: https://www.teflonline.net/?cu=YTDESCRIPTION