Welcome to Our TEFL / TESOL School in Hong Kong | Teach & Live abroad!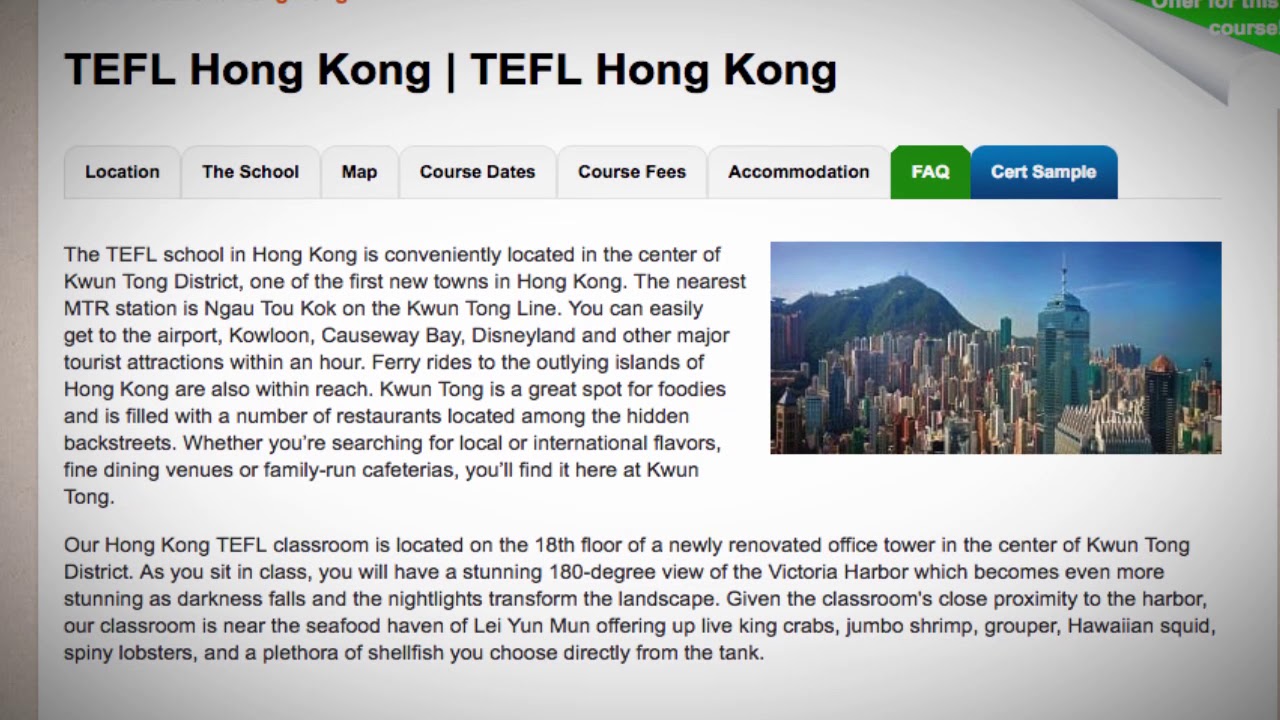 The TEFL school in Hong Kong is conveniently located in the center of Kwun Tong District, one of the first new towns in Hong Kong. The nearest MTR station is Ngau Tou Kok on the Kwun Tong Line. You can easily get to the airport, Kowloon, Causeway Bay, Disneyland and other major tourist attractions within an hour. Ferry rides to the outlying islands of Hong Kong are also within reach. Kwun Tong is a great spot for foodies and is filled with a number of restaurants located among the hidden backstreets. Whether you're searching for local or international flavors, fine dining venues or family-run cafeterias, you'll find it here at Kwun Tong.
Our Hong Kong TEFL classroom is located on the 18th floor of a newly renovated office tower in the center of Kwun Tong District. As you sit in class, you will have a stunning 180-degree view of the Victoria Harbor which becomes even more stunning as darkness falls and the nightlights transform the landscape. Given the classroom's close proximity to the harbor, our classroom is near the seafood haven of Lei Yun Mun offering up live king crabs, jumbo shrimp, grouper, Hawaiian squid, spiny lobsters, and a plethora of shellfish you choose directly from the tank.
For your convenience, the training site is equipped with a modern lounge offering a coffee machine, refrigerator and microwave oven. You will also have access to the following:
Long-distance direct dial upon request;
Printing and fax with service fees;
Incoming and outgoing mail assistance.
Find out more about taking a TEFL course in Hong Kong here: https://www.teflcourse.net/tefl-courses-locations/nepal/kathmandu/?cu=YTDESCRIPTION
Are you ready to live and teach abroad? Click here and get started today: https://www.teflcourse.net/?cu=YTDESCRIPTION